Advertisement
Featured article
Hair dyes - choosing the right hair color for you
Get the right shade and product for the effect you want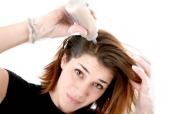 It is estimated that somewhere between 65 and 75 percent of women dye their hair. Even more interesting, however, is the fact that a significant percentage of men are joining in the trend. While women dye for a variety of reasons, men primarily use coloring products to cover their gray or to bring back the depth of their natural hair color.
Women have been dyeing their hair for hundreds of years. It is believed that ancient Egyptians started the practice. Women today dye their hair for a lot of reasons; sometimes they are simply looking for a change, at other times they just want to brighten their natural color - the reasons for dyeing are as numerous as the colours that are now available in today's marketplace. But how does a woman decide on the right color and/or the right type of hair dye?
Choosing Your Hair Dye
It is important to understand the various types of hair dyes in order to choose the right one for your hair. Since most dyes contain chemicals that can damage the hair if used improperly, choosing the right dye is extremely important. To ensure the least amount of hair damage, it is best to choose a color that blends well with your natural color; the lighter in color you choose to dye your hair, the greater chance you will incur severe hair damage.
article continued
Advertisement
To ensure the least amount of hair damage possible, most dyeing procedures should be done in a salon. However, realistically a lot of us simply can't afford that option and will, therefore, opt to do the dyeing ourselves. This makes it all the more important to choose the right type of dye.
Permanent Hair Dye
Permanent hair dyeing employs a procedure that strips the existing hair cuticle of its color and prepares it for the infusion of a new shade. As the natural hair color grows back in, the dye only has to be applied to the roots in order to maintain the color. While permanent hair dye may help you achieve the look that you want, particularly if you are opting to go much lighter than your natural shade, maintaining the colour can be both complex and expensive. Exposure to the sun and certain types of chemicals like chlorine can alter the overall color, cause it to fade, or make it lose its luminosity.
Doing your own permanent hair color is highly discouraged. This process should be done in a beauty salon by professionals who are trained to do the job properly.
Semi-permanent hair dye
Semi-permanent hair dye is the most popular choice on the market today. These dyes can last anywhere between eight to 20 washes, depending upon the brand of dye used and the condition of the hair. There are a number of color-enhancing glazes and shampoos that can effectively help to extend the length of time between colorings.
Like permanent dyes, semi-permanent hair color also penetrates into the hair shaft. However, it does not penetrate to the same depth and, therefore, generally causes less hair damage. The lighter in color you go from your natural shade, however, the more damage you risk. For this reason, it is suggested that you stay within one to two lighter shades of your natural color. While you can afford to go a bit darker than two shades, do not assume that means there will be no hair damage – this will be largely dependent upon the condition of the hair at the time the dye was applied.
Semi-permanent colors can, of course, change the color of your hair altogether or they can merely brighten your natural color. There are dozens of good semi-permanent hair colors on the market today, ranging in shades from Nordic blonde to raven black. There are those that claim to infuse moisture as you color; those that say they condition as you color; and those that guarantee multiple shadings for the most natural looking color.
The hardest part of the semi-permanent process may well be determining which brand and color to choose. Clairol and L'Oreal are always good choices, but Garnier Nutrisse is also growing quickly in popularity. Many people claim it is the least damaging to the hair, though I have not verified this personally.
Temporary hair dyes
Temporary hair dyes generally come in the form of rinses, gels, pastes, mousses, or sprays. These dyes merely coat the surface of the hair. They do not actually lift your original color from the cuticle or in any way penetrate the hair shaft. They wash out easily, generally lasting only one to three shampoos. For this reason, this form of coloring is highly popular with the younger set who often like to dye their hair to match their outfits or their mood at the time.
While this form of coloring doesn't penetrate the hair, that doesn't necessarily mean that it can't cause hair damage. Some products on the market are rather harsh, making the hair hard or brittle and easily prone to breakage. As much caution should be used in choosing a temporary hair dye as any other form of hair coloring. Some of the most popular brands of temporary hair dyes include Paintbox Extreme Colors by Fudge and Good Look Color Mousse.
Gradual / progressive hair dyes
Gradual or progressive dyes are most popular with men. These dyes contain a lead acetate that penetrates the hair cuticle to react with the hair's protein and sulfurs, thereby darkening the hair shaft. The more often the dye is used, the darker in color the hair becomes. The less it is used, the quicker it will return to the yellow or gray color that the dye was meant to cover. Grecian Formula and Just for Men are two excellent hair colors that fall within the gradual or progressive dye category. Both have been around for a long time and there is a reason for that. They actually work!
Highlights
One of today's hottest trends is, of course, highlighting the hair. This form has the potential for causing either the most or the least hair damage of all. It can cause a great deal of damage if used over hair that has already been dyed with other hair products, chemically treated to curl or straighten, or if you attempt to go too many shades lighter than your natural color. It can cause the least damage if done properly because highlighting only involves changing the color of small strands of hair rather than the entire head.
The purpose of highlighting - with the exception of chunking - is to create a sun-streaked look by lightening the hair where the sunrays might naturally fall. This dyeing process gives the hair better depth of color and a visual texture. Generally, it is best to choose a highlighting shade that is within one or two shades of your natural color. At any rate, most beauticians do not recommend going more than three shades lighter.
There are four main ways to do highlights: foiling, painting, chunking and lowlighting. Foiling and lowlighting should always be done in a salon. However, chunking and painting can be done via a kit much in the same manner as other types of hair coloring. The important thing to remember, if you opt to do your own, is to follow the instructions as outlined in the highlighting kit.
There are lots of highlighting kits available today. Some of the best include Nutrisse Nourishing Multilights, L'Oreal's Chunking, Feria Quick Shimmer Highlights, Couleur Experte and more. Some are strictly meant to be used over natural hair colors while others can be used over semi-permanent dyes as well. Be sure you read the box thoroughly to make certain your highlighting choice will work on your hair.
Choosing the right hair color for you
Once you have decided what type of dye you want to use and which brand you want to choose, it is time to think about your color. You should begin by determining your skin tone.
Cool skin tones generally have very pale skin with pink or no undertone. Those with lighter skin may have a bluish-red undertone. If this seems to describe you, choose a hair color like platinum or a cool ash blonde or wheat to chestnut brown. Avoid red shades that will not accent your natural coloring.
Those with medium to deeper cool skin tones generally have an olive undertone. If you fall within this category, you will look stunning in dark browns, deep burgundy reds, or even bluish black hairs.
Warm skin tones generally have a peach or golden undertone. Those who fall into the lighter category generally have ivory, creamy beige, peaches and cream, or a golden tan skin color. If this describes you, you will look best in lighter hair colors with a decidedly warm undertone like beige blondes, strawberry reds, and pale golden browns.
Those who have slightly warmer skin tones tend to have more of a yellow-red undertone. You will look great in richer shades like deep honey blondes, chestnut browns, or copper reds.
Hair Coloring Tips
Now that you are all set to color, here are a few tips to follow:
To wash or not to wash; that IS the question. Many hairdressers disagree on this subject. Some say that excess hair product will interfere with proper coloring. Others believe that the natural oils of the hair will help prevent excessive damage. I say, read the box of the color chosen and follow their directions. They know what is best for their particular product.
Trim split ends before coloring. This will help to ensure a nice, even hair color.
If you intend to condition your hair, do it after you dye it or at least one week before you dye. Do not condition it immediately before dyeing. The color may not take properly if you do because many conditioners put a coating on the hair shaft that will prevent the hair color from achieving its ultimate goal.
Check for possible allergic reactions before you dye your hair. Follow the procedures laid out in the instructions provided inside your hair color box.
Do a strand test first to make certain the color will take the way you want it to. Again, follow the directions laid out by the hair color manufacturer.
Wear protective gloves while dyeing and protect the skin around your hairline.
Follow the timing instructions laid out for your chosen hair color. Do not leave the dye on longer than outlined.
Do not attempt to dye your eyebrows or eyelashes with hair dye.
Do not mix various hair dye products together. Their differing components could cause hair breakage and will alter the ultimate color.
Seek professional assistance if the color comes out incorrectly, your hair is damaged, or you are uncertain of how to proceed further. Most hair color brands provide a toll-free hotline to help with these kinds of problems.
With everything available in today's marketplace, dyeing your hair at home is easier than ever before. The important thing to remember is to follow the procedures outlined in your chosen dye's instructions. If you do, chances are good that you will achieve exactly the look that you want.
Related Articles:
Related articles
Your hair curling options from bobby pins to hair rollers
A look at pubic hair removal methods
Changing your hair color? Which way should you go?
Top Stories
The different types of massage oil compared
A period of corsets and petticoats galore!
Build a collection you can wear forever
Advertisement