Advertisement
Featured article
How to keep your hair color from fading
Tons of tips to keep hair bright and beautiful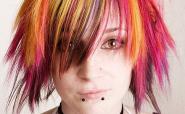 If you are going to go through the time and expense to get your hair colored, you certainly don't want it fading away after just a few shampoos. That is especially true once you find the perfect shade you've been trying to reach for years. Luckily, there are things that you can do to keep your hair color looking fresh and vibrant weeks longer than ever before.
Make sure your hair is in condition to receive and hold color before you apply it in the first place. Hair that is already badly damaged by chemicals or the sun may not be able to retain color well. If you can, give your hair the time it needs to bounce back from at least some of the damage before you apply color. If you are in hurry for some reason, then at least take the time to deep condition the hair before applying color. Be sure to allow a few days between the conditioning and coloring processes.
Don't wash your hair right before you color. Of course, don't let it go for a full week without shampooing or try coloring it while the hair is excessively dirty. However, give the hair at least 24 to 36 hours before coloring. The reason for the delay is to make certain natural oils build up just enough that it can help grab onto the color. This will help it adhere to the hair shaft better and make the color last longer.
Take a look at the shampoo and conditioner you are using on your color-treated hair. If those products are not labeled as color enhancing, color retaining or color saving; for color-treated hair or color depositing, then you are using the wrong thing. Switch to shampoos and conditioners that are specifically made to help retain color. While making the shampoo switch is the most important of the two products, using a conditioner that does the same helps ensure longer-lasting color overall.
Do not over shampoo. If you are use to washing your hair daily, switch to at least every other day. If your hair can take it, every three days works. Twice a week will be sufficient for most hair types since the coloring process causes hair to dry out slightly. Keep in mind that the lather of typical shampoos have the capacity to wash away not only your hair's natural oils but its artificial coloring as well. If one lathering is sufficient when you wash, then do not repeat. Better still, switch to a color-enhancing non-lather shampoo for the absolute best results.
If the water you use to shampoo your hair is hard, consider installing a water-softening agent. Hard water has a lot of minerals that can be deposited on top of the hair shaft, helping to fade the color beneath.
Pay attention to the heat of the water used when you shampoo. This is particularly important for red heads. Hot water can severely fade all shades of red. Try switching to warm water for shampooing and always finish off with a cool rinse.
Stay away from the sun as much as possible. It can fade out even the best color job in a matter of hours. It is harsh for even the healthiest hair, so imagine what it does to hair that is color-treated. Damaged hair automatically fades easily, providing a serious one/two punch. If you must be outside for an extended period of time, wear a hat or scarf to help protect your hair. Another option is to apply a deep conditioner and let the sun's heat activate products that will actually help the hair.
Avoid swimming pools that contain chlorine since that chemical can alter the shade of your color significantly. Additionally, mixing any chemicals with the ones in the hair can further damage it, causing breakage and split ends.
Hot tubs and tanning booths are a no no as well. They make you sweat profusely. The heat will open the hair cuticle, allowing the color molecules to move away from the hair shaft.
Do not perm the hair for at least two weeks after coloring. Even then, be aware that the chemicals in the permanent may severely alter or strip the color from your hair. If possible, avoid perming altogether when coloring hair.
Color-treated hair fades naturally on its own. You don't really need help in making that process work faster. Taking precautions like those noted above can help you not only extend the life of your color but also prevent unnecessary damage to your hair.
article continued
Advertisement
Related Articles:
Related articles
Hair emergencies - some questions and answers
Pick the product to look great and avoid hair damage
The sedu hairstyle that has been made popular by Jennifer Aniston and other stars
Top Stories
A mineral makeup FAQ - what makes these cosmetics so popular?
A time of angel wing hair, paisley and the micro-mini
The rhinoplasty facts you need to know before your first consultation
Advertisement