Advertisement
Featured article
Foam hair colors - do they work?
Find out if foam hair colors are worth the extra money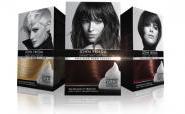 A lot of women color their hair - I mean, really a lot, over 75% of Americans, for example! In the past year, foam hair color has become one of the fastest growing beauty trends; several hair color brands have jumped about the foam bandwagon, including Clairol with its Nice and Easy Color Blend Foam Hair Color, John Frieda with its Precision Foam Colour, and Samy with Fat Foam Hair Color.
These companies boast that foam coloring is easy, claiming a no-drip application, a smooth, even coverage and no mess. Let's see if the reality of foam hair colors stands up to these claims.
Application
Unlike the ads on TV and in magazines, foam hair color doesn't come in pretty white foam. It is not rich, thick or luxurious. In many ways, it's not that different from the standard hair colors women have been using, especially true if you don't shake the foam up correctly. Too much shaking causes it to break down into a messy liquid, while not enough shaking can result in uneven color.
article continued
Advertisement
The color of the foam also depends on the hair color itself. Since my hair is reddish blonde and I use a red shade to cover my gray, I get a reddish brown foam color. It isn't at all pretty and the foam will stain just like any other hair color. A few people have reported color staining even after it is supposedly set in. However, such claims are few and far between.
Because color foam is slightly thicker, you can be fooled into thinking you've covered all of your hair strands when you might not have. I found it much more difficult to determine coverage than with liquid or gel color. Consequently I missed a few strands, leaving me unhappy with the results.
With foam hair color, it is also important to leave it on for the full amount of time recommended if you are trying to cover gray. Leave it on 5 minutes less and you might not see complete coverage.
Colors
Let's begin with color selection. Most foams are restricted to common colors; Clairol, for example, offers the following shades blonde shades: light blonde, medium golden blonde, medium champagne blonde, medium ash blonde, medium blonde and dark blonde. Browns include lightest golden brown, light golden brown, light ash brown, light brown, medium golden brown, medium ash brown, medium brown and dark brown. Clairol also offer black, light auburn, medium reddish brown and dark reddish brown.
John Frieda only offers 20 shades. There are 7 blonde colors, including extra light natural blonde, extra light beige blonde, light natural blonde, light ash blonde, medium natural blonde, medium ash blonde and dark golden blonde. There are 8 brown shades in light natural brown, light golden brown, medium natural brown, medium chocolate brown, medium golden brown, dark natural brown, dark chocolate brown and deep brown-black. Finally, there are 4 red shades in light red brown, medium red brown, dark red brown and deep cherry brown.
Samy Fat Foam has the least number of colors at 18. There are 7 shades of blonde including light ash blonde, medium ash blonde, dark ash blonde, light blonde, medium blonde, dark blonde and medium golden blonde. There are 7 shades of brown in light golden brown, light brown, light ash brown, medium ash brown, medium golden brown, medium brown and dark brown. There are 3 red shades, medium reddish brown, deep cherry brown and intensive red. The last color is black.
Because the colors are limited, it is difficult for some women to get the color nuances they have been getting from other hair colors. For those women, foam hair color may be too restrictive.
Coverage
When it comes to length of coverage, foam hair color matches or exceeds any standard hair color as long as you follow the instructions accurately. Using color protection shampoo and conditioner will also help to extend the color, which is of a "permanent" variety. It fades but doesn't lose all of the color.
Cost
The cost of foam hair color is slightly inflated in some cases, depending upon where it is purchased. Clairol's Nice and Easy Color Blend Foam and Samy's Fat Foam retail between $7.99 and $11.99. John Frieda Precision Foam usually begins around $11.99 and goes up to as high as $14.99. In comparison, standard hair colors begin at $3.99 and average around $6.99.
Verdict
The short answer is that yes, foam hair colors work; but they don't work any better than the hair colors women have been working with for decades, so why spend a few dollars more if you don't have to?
Related Articles:
Related articles
A lightning tour of wigs through the ages
The sedu hairstyle that has been made popular by Jennifer Aniston and other stars
Color your hair without all the mess
Top Stories
A cream that promises an instant facelift
A non-greasy moisturiser with a long-lasting perfume
We women push size zero standards on ourselves
Advertisement