Advertisement
Featured article
Bad hair day FAQ
Hair emergencies - some questions and answers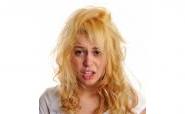 Bad hair days. We all have them and we all hate them! For a woman, a bad hair day can ruin everything else positive that might happen over the course of those 24 hours - we always want to look our best and we don't appreciate anything getting in the way of that goal. Hopefully, some of the below questions and answers will help you through your next bad hair day.
Problem #1 – My hair won't hold a curl. What should I do?
Look for products that volumize and hold. If your hair is fine or delicate, you will likely want to choose a mousse as it is less likely to make the hair look flat. If your hair is normal, you can use any type of styling product that you prefer. If your hair is thick, you might want to look for a cream. Use the same brand of shampoo, conditioner, and hair product because they are made to go together and work off one another. Spritz a small amount of non-aerosol hairspray on the hair before you curl it. Be sure to match your hairspray to the other hair products you have chosen and do not over-spray. This should help lock in the curl without weighing the hair down or losing its natural bounce.
Problem #2 – My hair has flyaways. How do I stop the static?
This problem most often happens in climates where the air is excessively dry. Be careful not to rub your hair with hats, scarves, or headbands as they will create static electricity. Also avoid heat styling products like curling irons, pressing irons, or hot rollers as they will only make the hair drier. Also avoid volumizing and clarifying shampoos and conditioners that tend to strip the hair cuticle of is own natural oil. Deep condition the hair regularly with a conditioner that is made especially for dry and/or frizzy hair. You might also try one of the new smoothing creams on the market today. Many are made especially to address this hair issue.
article continued
Advertisement
However, if all of the above efforts don't help and flyaways happen anyway, then try some of these tried and true homemade remedies; rub your hair with a dryer sheet, or spritz it with Static Guard. Either product can help prevent static electricity in the hair just like it does in your clothing. Moisturize your hands with a vitamin E or silk oil and then rub them through your hair. This tiny bit of oil will help to tame the most stubborn flyaway hair.
Problem #3 – I've been dying my hair for years but now I want to go back to my natural color. What is the best way to achieve this?
Much of that depends upon the difference between your natural color and the color you have been using on your hair. If your natural color is lighter than what you achieve through coloring, you can do one of two things. Simply stop coloring your hair and let the hair color grow out naturally, or visit a colorist who can help weave in some color that is closer to your natural color through highlights.
If, on the other hand, you have been dying your hair lighter than your natural color you have other options. You can use a semi-permanent hair color that closely matches your natural color until all of the lighter hair has gone, or you can go to a colorist to have lowlights woven into your hair until it eventually matches your natural shade.
Problem #4 – I don't always have time to shampoo and condition. Are two-in-one products that both shampoo and condition any good?
That depends of the type of hair you have. Two-in-one products are fine for those with extremely healthy hair. If your hair is oily, however, then you probably do not want or need the extra moisturizing ingredients that are typically in two-in-one products. That will make your hair look greasy and weigh down your hairstyle. If your hair is dry or damaged, then you very likely need the extra hydration of a separate conditioning product made for dry or damaged hair. In that case, a two-in-one product simply isn't the best choice for you.
Problem #5 – I purchased some hairpieces that match the color of my hair perfectly, but they are much shinier than my natural hair. What do I do?
This happens frequently when you purchase synthetic hair; less often when you purchase human hair. The good news is that the shininess will wear off in time because of the natural elements and products that your hair is exposed to. The bad news is that won't take care of your immediate situation. I have found that the best thing to do is use an extra shine product on your own hair. There are many products on the market that are quite remarkable. They bring the shine of natural hair close enough to that of synthetic hair for it not to be noticeable unless someone is staring. If they are getting that close, chances are that they will recognize that you are wearing a hairpiece anyway.
Related articles
Get both body and shine from this great new hairspray
What causes it and how to fight back
Get the right shade and product for the effect you want
Top Stories
What colonic hydrotherapy is and what it can do for you
You already have the clothes you can't afford to buy!
Collagen has many rivals these days, this article tells you what's what
Advertisement