Advertisement
Featured article
I cut my hair and I hate it. What do I do now?
Dealing with haircut blunders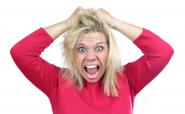 "I cut my hair and I hate it. What do I do now?"
We've all been there - very few women that I know like their hair! I hate my strawberry red, baby fine, difficult-to-manage tresses. I would love to have the dark, thick straight locks possessed by my daughter who was lucky enough to get her father's hair instead of mine. Because so many women hate their hair, they are almost always looking for ways to improve it, and of course one of the most common is through a new haircut.
Unfortunately, a lot can wrong in that arena. The beautician could unintentionally misinterpret what the customer wants. The customer might choose a style that isn't appropriate to their facial structure or their type of hair. Getting the perfect hair cut each and every time is virtually impossible.
article continued
Advertisement
Women who "think" they want a drastic change, such as pixie cut from formerly below-the-shoulder tresses, should be certain that the result is going to be positive. One way of doing that is try on wigs with a similar cut and style. Granted, it isn't going to be the actual look unless one can get the same type and texture of hair, but it can let you know if you are way off track.
Once a cut is done, however, the only thing that can be done is to deal with the aftermath. Here are some possible options to explore.
Buy a wig. If the cut is really bad and can't be tolerated, then the only option might be to cover it up until the hair begins to grow out. There are thousands of wigs on the market today and they are better made than ever before. Today's wig caps are lightweight and much more comfortable than those of yesteryear - many allow the wearer to pull their natural hair through to avoid the dreaded obvious wig look. Human hair wigs can be cut, colored, and styled which may allow the wearer to get the look they were shooting for in the first place.
Use extensions. Hair extensions are easy to find in today's marketplace. They come in a multitude of colors, various lengths and different styles from straight to waves or curls. While human hair extensions can be a bit pricey, the best synthetic hair is every bit as beautiful and much less expensive. Of course human hair can be colored, cut, and styled while extensions cannot.
Look into hairpieces. While wigs and extensions may be somewhat limited in style, hairpieces can come in a wide variety. Whether one opts for a ponytail, a classic chignon, or a full-length fall, hairpieces can often be molded, pinned, and manipulated into a variety of style options. Best of all, most of them are inexpensive and can fit into almost any woman's budget.
Bad haircuts are a fact of life. The best we can do is be prepared to take the appropriate action until the locks grow back!
Related Articles:
Related articles
A lightning tour of wigs through the ages
Three ways to have beautiful eyebrows
Get both body and shine from this great new hairspray
Top Stories
Products and principles to make older skin look great
A review of the ones to avoid!
The different facial beauty treatments you can find in a salon
Advertisement