Advertisement
Featured article
Review: Sally Hansen's Lip Inflation Extreme
A lip plumper that works without drying out or burning your lips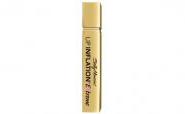 After a woman turns 45, some things that she has taken for granted over the years begin to change. The skin gets dry and wrinkled, age spots pop out of nowhere over night, and the lips begin to get smaller. Most women, however, want sexy, sensuous kissable lips, which signify ultra-femininity. But not everyone can afford expensive collagen injections, which can run as much as $700 per shot, so they must rely on cosmetic alternatives. However, some of the products on the market today that claim lip plumping powers are painful to wear because they contain ingredients that sting and burn.
Why choose Lip Inflation Extreme?
The secret of Sally Hansen's Lip Inflation Extreme is its breakthrough plumping hydro-collagen complex which is infused with marine collagen and hyaluronic acid. It does not dry or crack the lips and actually makes them feel moist and beautiful while delivering an immediate dramatic effect. Additionally, the cinnamon extract and special formula gloss help to enhance the lips' natural color. The result is pinker, younger, healthy looking lips that men will rush to kiss.
Dermatologically tested, Lip Inflation Extreme guarantees visible results or the company will refund your money. I always respect a business that is willing to stand behind its product line in that fashion!
article continued
Advertisement
Lip Inflation Extreme comes in a beautiful gold colored bottle that is small enough to fit it almost any sized pocket. Because it looks like a high-end lipstick tube, you won't hesitate to pull it out and use any time you want.
While Sally Hansen provides the lip inflation product as a standalone product, she also offers it mixed into many of her lip-glosses as well. I like having the option to wear it with my own lipstick or choosing one of Sally Hansen's other products. Three of her most popular are sheer blush, sheer, pink, and sheer mocha.
Sally Hansen also offers the cutest little compact of mini glosses that contains 20 different shades to choose from. I like them because my daughter and I can divide them between us, leaving no glosses unused or thrown away.
While I'm still searching for the one product that will make my lips look perfect, I have to admit that Lip Inflation Extreme fits the bill in the meantime.
Related Articles:
Advertisement