Advertisement
Featured article
Finding the perfect makeup brush
Navigate through the makeup brush maze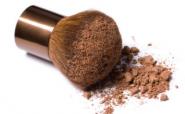 There are hundreds of different types of makeup on the market today and each different makeup type comes in multiple forms. There are minerals and powders, creams and liquids, sticks and cakes, mousses and spray-ons, and that merely scratches the surface. While some women try to make their old standard makeup brushes fit today's myriad of cosmetic products, the truth is that each type of cosmetic and each form within that type requires something slightly different. But where does one begin to try and find the perfect makeup brush for each application?
Concealer brushes
Let's begin at the beginning, with concealer. Most women wear some type of makeup concealer either to hide scars and blemishes or to disguise flaws. Many concealers have taken the guesswork out of application by including their own applicator tool. These include brushes, wands, sponge applicators and more. Since no one knows their product better than the manufacturer, it is a sure bet that the applicator tool provided is exactly what the product needs.
For example, Maybelline's amazing Age Rewind Double Face Perfector comes with its own easy to use applicator sponge wand. It applies just the right amount of product with a light "dab" of the concealer. Neutrogena's Skin Soothing Undereye Corrector has a perfectly shaped brush that glides the concealer onto the skin without any hint of tugging at the delicate eye tissue. Bare Minerals provides just the right size and shape of brush to absorb the minerals easily and place them ever so delicately onto the skin.
article continued
Advertisement
But what if your concealer doesn't come with its own applicator? What do you choose to use then? In truth, with most concealers you can use your fingers to dab and smooth on the product. Those choosing to use a concealer brush, however, should choose something small and lightweight with delicate fibers that are in no way abrasive to the skin. Look for a relatively flat concealer brush that is rounded on each side. This type of tool can be used to sweep on a light powder or dab on just the right amount of product. Choose a sponge top applicator tool for creams, liquids, and mousses and a soft hair brush for minerals and powders.
Foundation brushes
Foundation, like concealer, comes in a wide variety of forms with just as wide a variety of possible applicator tools. As with concealer the brush you use will be dependent upon the type of foundation product you choose. Most of today's popular new mineral foundations come with their own brush. Many of them are referred to as "kabuki" style; these are short, round soft hair brushes that are perfectly shaped to absorb the minerals evenly throughout the brush so that it can be just as evenly distributed onto the skin. L'Oreal's Bare Naturale Powdered Mineral Foundation has built its brush right into the lid of the product. With one dip into the mineral base, you get just the right amount of product for a perfect application. Physicians Formula Mineral Wear attaches its tiny kabuki brush into the product's cover so that is always ready to use and remains covered and germ free between applications. Other powder type foundations, like Serious Skin Care's Pro Minerals, use full wide-hair brushes that barely touch the skin as the product is applied, or wide, long haired brushes that blend the product with absolute ease.
In contrast, foundation creams and mousses can often be applied with sponge applicators that are made specifically for the type of foundation being used. Others go on just as easily with the fingers, and the natural body heat can even activate some of the products' properties. Some of the newer spray-on foundations don't really require any type of applicator brush at all.
Blush brushes
Blush brushes of old were almost always made of soft, long bristles and were fluffy and loose in nature. They were designed this way to carefully blend powder blushes lightly into the skin to make the bloom on the cheek look absolutely natural. However today there are as many different type of blush products on the market as there are foundations. These include creams, liquids, mousses, stains, gels, powders, and minerals. Therefore, blush brushes have also changed to meet the needs of all of these new blush forms. Among the most popular at the moment are contoured and angle brushes. Contour blush brushes are designed to provide a perfect sweep of blush across the cheekbone. Angled brushes help novices apply the blush product perfectly. Thick, soft bristles at the end blend the product into the apples of the cheeks, while thinner, angled bristles contour the blush perfectly into the cheekbone. One of the most perfect blush brushes made today comes from Bare Escentuals. Although it is specifically made for use with mineral products, it works beautifully for all powder blends.
Eye shadow brushes
Most women use a single brush to apply eye shadow, which is not the best overall choice. Perfectly applied eye makeup requires different sizes, shapes, and styles of brushes for the job to be accomplished. Eye shadow across the middle of the eyelid requires a medium sized brush with medium soft bristles that will deposit the perfect amount of intense color. A brush that is too small will make the eye shadow look incorrectly applied. A brush that is too large may spill over onto the upper and lower areas of the eye where it doesn't belong. In contrast, to highlight the eye with a lighter shade of eye shadow underneath the eyebrow, a slightly larger brush with soft, wispy bristles is recommended. The color in that area of the eye should be much more delicately applied.
However, today's eye shadows are not all powder based. Like other makeup products, they too come in a variety of forms. Many, like creams, cakes, mousses, and gels can be just as easily and effectively applied with the fingers, a sponge applicator, or a Q-Tip. Eye shadow pencils and some liquids come with their own built in applicator tool. Wet 'N Wild's pencil eye shadows are soft enough to sweep across the eye without disturbing delicate skin. Virtual Eyes' sponge applicator applies just the perfect amount of cream shadow each and every time.
Eyeliner brushes
A separate eyeliner brush should be used to apply eyeliner. Two types of eyeliner brushes work relatively well. One is a thin, very flat angled brush that is often used for dry or certain types of cream eyeliners. The other is a long bristled paintbrush style brush that allows for perfect lightly applied detailed work. Most cream eyeliners come with their own built-in applicator tool. Prestige's Liquid Eyeliner's brush is almost foolproof, as is the one provided with Jane's Liquid Eyeliner. Bare Escentuals also makes a double-ended eye product brush that provides the best of everything. On one end is an angled, thick and soft haired bristle brush that, turned one way, applies eye shadow perfectly in one sweep. Turn it in the other direction and it applies highlighter with gentle precision. On the other end of the brush is a perfectly angled eyeliner brush, which works well for powders, creams, and minerals (when wetted).
Eyebrow brushes
Not every woman uses eyebrow brushes today, but several different styles are still available in the marketplace. Many of the newer ones come with a clear eyebrow-correcting product that dispenses as the brows are brushed into place. The old-fashioned eyebrow wand that has a brush on one side and a comb on the other is also still available. Beauty Innovations makes an eyebrow conditioner that doubles as a corrector and brush all in one. With its mascara style brush that is wider at one end and narrower at the other, it helps to dispense just the right amount of product with each application.
Macara brushes
Finally, mascara brushes today are customized to fit each individual product line. There are brushes, combs, and wands. For example, L'Oreal's first-rate Volume Shocking mascara provides an applicator brush for the base coat and a wand comb for the actual mascara. Cover Girl's new and highly successful Lash Blast has a very unusual plastic brush applicator. Max Factor's Lash Reflection provides a perfect hard-bristled brush applicator. Some mascara wands are straight, others are curved. Some are short, others are long. The key with mascara is to find the product that you like and trust in the manufacturer's applicator tool.
Lip brushes
Although not every woman uses them, many love to apply lip products with a lip brush. Many lip products on the market today come with their own applicator brushes, wands, and sponge applicators. For those that don't, it is possible to purchase a flat firm bristled brush that will apply most lipsticks, creams, mousses, and even glosses with wonderful accuracy.
Powder brushes
Last, but by no means least, is the powder brush, which is typically used in conjunction with a translucent powder or mineral to "set" the makeup in place. It is the largest and fluffiest of all of the makeup brushes and usually comes on a long handle for easy use. The bristles are long and extremely soft and delicate to make certain there isn't too much product applied at any one time. With this brush the key is softness and volume. Here, old saying "the bigger the better" is almost always true.
And finally...
Finding good makeup brushes isn't difficult but it shouldn't be approached from a strict financial point of view. In other words, don't expect the standard dollar store set of makeup brushes to fit all of your makeup needs. While you may well find one or two in the kit well worth the money spent, in many instances you will be much better off investing in something a bit more upscale. Purchase makeup brushes from reputable cosmetic retailers. The brushes will work better, last longer, and help you apply your makeup like a real pro.
Related Articles:
Related articles
Messy mascara and other cosmetics catastrophies
How long can you safely use your beauty products - a guide
A selection of two- and three-in-one beauty products
Top Stories
Your forties are a critical time for your skin
A time of glamor and blonde bombshells
The different types of cholesterol, and how to reduce the bad kinds in your diet
Advertisement