Advertisement
Featured article
Fashion trends for Summer 2010
What's in and what's out for summer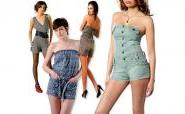 Summer 2010 will be hotter than ever! Some of the spring trends will continue while the sizzling months of summer will also add its own personal style.
Short, shorter, and shortest is the trend of the day, with summer's dresses going from maxi to mini in the blink of an eye. Feminine and frilly isn't going anywhere as ruffles continue to flirt and flounce. However, also look for bold geometric patterns and wild floral prints that are a throwback to the 60's.
While the black and white spectator look remains strong, as does that red, white and blue nautical trend, color is really key for Summer 2010. We aren't talking a little color either, we're talking dramatic, in-your-face color with mixing and matching of multiple shades in one design. This summer's ladies will be vibrant, sexy and utterly unforgettable in everything from a kittenish sundress to a drop-dead diva, thigh-high curve-hugging extravaganza. This year is not for the faint of heart - everything is big, bold, and beautiful.
article continued
Advertisement
That's not to say there is no place for nudity. Some of this summer's sheer fabrics in nude shades will make many ask "is she or isn't she?" Only her fashion designer knows for sure.
Romper, a throw back to days long past, is back and making big waves. Why? Because they are short and sexy, made from natural fabrics, remarkably comfortable and so much fun to wear. While not every woman can easily don one of these skimpy little numbers, those that can will be stopping traffic all over the world.
Skinny jeans are tighter and skinnier than ever, although that hardly seems possible. They are also embellished either to look old with pre-torn edges and rips, hand painted, embroidered or studded to absolute perfection. Leggings remain popular, only now they are cropped to hit just below the knee. Finally, boyfriend capris and cargoes are more popular than ever, especially those that offer adjustable lengths with a cute little cufflink, tie or handy dandy button.
Shorts will be revealing in more ways than one. They will reveal some skin, of course, hitting from just below the derriere to mid-knee, but they will primarily reveal a lot of personality. Whether fitted or loose, casual or dressy, long or short, today's shorts will express a woman's personal taste and style.
Look for a lot of bustier and corset tops combined with ruffles, a small hint of lace, a beautiful print or some sexy embellishment. Casual tanks and tees remain strong, while filmy chiffon tunics and short caftans that look more like lingerie also make their presence known.
Boyfriend jackets remain a must have accessory; the longer the better. Lightweight sweater duos made from t-shirt weight fabrics are also popular. Finally, tight-fitting military style jackets with lots of embellishment also continue to be strong.
When it comes to swimsuits, anything goes, although fewer thong numbers will be seen on the beaches than in recent years. Instead, expect to see retro bikinis and two-piece suits that cover just a bit more skin. Tankinis and sexy one-piece suits will also be popular in just about every color, shape and style known to man. Prints and florals will be hot and glitz and glamour will rule.
Accessories are also important and they will be this summer as well. Look for handbags to revert back to the big carryall hobo style tote that women love. But don't look for just neutrals in shades of khaki, black and white; women will add yet another color or two to the ensemble with bags that demand attention and can be seen from a block away.
Drop bags are all the rage. They expand to encompass everything from necessities to a laptop computer during the day and then can be manipulated into something smaller and classier for night. Don't look for handbag designs to be demure either. This summer's bags will feature rows of ruffles, long, sexy fringes, a garden of flowers, edgy studs and jewels galore - the more embellishment the merrier. Metallics remain hot with an emphasis on silver and bronze.
Sandals remain the most important footwear of summer. But forget about those flips flops, today's woman wants the strappy gladiator look, or better still, sexy platforms. The higher the wedge, the more exciting the woman, according to many top designers. While comfort is important, today's woman still wants to ratchet up the feminine factor. To that end, look for lots of stilettos that go higher than ever before.
Belts are back with a bang and most women will have several to choose from. From the thin to the thick of it, leather, cloth, and chain belts will be just as colorful as their sister accessories. A few even sport some of those popular floral and geometric prints. Look for shoes and belts to carry some of the same embellishments as handbags, including a lot of studding, chain and jewel accents.
When it comes to jewels, Mother Nature rules once again. Jewelry with a natural vibe like pearls, wood, amber, and agate are hotter than ever. Pearls are the must-have jewelry accessory with white and cream numbers leading the pack. Beads are also hot, especially in nature-inspired woods, amber, and agate. Necklace lengths are long, averaging from around 36" for extra wrapping capability. Earrings run the gamut from studs to big 4" hoops and come in just about every material available. Bracelets are still hot, whether they represent bangles, cuffs, stretch or a combination thereof. A multi-strand pearl bracelet is one of the most important jewelry pieces of the season.
Last, but by no means least, sunglasses are now much more than just something to protect eyes from the summer sun. They are an important summer accessory and now they come in a wide variety of colors, shapes and sizes. Gone are tiny frames that barely cover the eye area, back are larger frames that provide better protection and leave lots of room for embellishment. Look for hot animal prints and plenty of jewels.
Most important of all, a large portion of today's fashion and accessory item will have one thing in common. They will be made of eco-friendly, natural  products that help protect the environment. That may well be the sexiest thing of all.
Related articles
Home video camera beauty tips galore!
We women push size zero standards on ourselves
Simple tips for avoiding those big beauty mistakes
Top Stories
Choose the hairstyle that matches your face
From flare to skinny, we cover them all
A look at where current beauty trends may go in the 21st century
Advertisement