Advertisement
Featured article
Ten fashion items that should be in every woman's closet
10 fashion essentials that every woman must have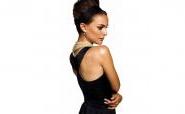 When I was working full time, I felt the need to have a wide and highly varied wardrobe. Now that I work out of my home, I feel less of a need for my closet to be full of clothes. However, I do believe that there are certain pieces of clothing that should always be in a woman's wardrobe. With these items on hand, even the most fashion-challenged woman can mix and match to make the pieces work for just about any occasion.
Here is a list of clothing items that I consider essential to every woman's wardrobe along with an explanation as to why they belong there.
1. The Little Black Dress or LBD
The LBD is on every "must have" list for a reason. With it and a few other key pieces you can create a never-ending number of outfits. However, stay away from a lot of embellishment. This is a piece of clothing that should never feature excess beading, rhinestones, appliques, or embroidery. Think simple and elegant, like Audrey Hepburn.
article continued
Advertisement
Just because it is called a LBD that doesn't mean it should be short, skimpy or revealing. That means it can't be too short, have a plunging neckline, look like you were poured into it, or be made from sheer or revealing fabric. This dress should be selected for its quality, fit, and versatility. It should take you from day to night with just a few minor changes.
A lot of people ask why it must be black. The truth is that it doesn't. It can be any neutral color if you don't like or look good in black. The key requirement for the LBD is that, when you wear it, you feel absolutely beautiful. Settle for nothing less.
2. Crisp white cotton button down blouse
A crisp, white button down blouse is also a classic because of its versatility. You can wear it with a suit, throw it with your jeans, pair it with a pencil skirt, or pull it on with your favorite pair of shorts. It goes with everything.
Look for one of the new wrinkle resistant cotton blends. Just make certain it is "crisp" and well tailored. That means that the shirt should fit like it was made for you, with flattering seaming and perfect shape.
Choose a good, medium length. Anything too short or too long won't be as versatile as something that strikes around hip length. You may want to use the shirt as a jacket with a tee, tuck it into your jeans, or tie it up under the bust for a casual look. You won't be able to do that if the shirt length isn't appropriate.
As with the LBD, look for quality and pay close attention to fit. Never choose a shirt that gaps at the bust even if it fits great everywhere else. Keep shopping until you find the one that fits your body or size up and have the shirt tailored to fit.
3. Solid wash jeans
The emphasis on solid wash is intentional. Every woman needs at least one pair of this type of jean. My preference is dark wash or indigo, because they can be as easily dressed up or casual.
Some people feel they are too big or too old to be wearing jeans, but jeans are a staple in any woman's closet for a reason. If they fit correctly and are quality, nothing else looks as great on a woman's body. So if you have been longing to feel sexy, powerful, and beautiful, then find the right pair of jeans, ie one that fits properly.
Jeans that hit around one or two inches below the waistline look good on most women, as do boot-cut legs, while those skinny jeans and wide legs only fit select body shapes and sizes.
Unfortunately, there isn't a simple way to find the perfect pair of jeans. It is a bit like learning to play a musical instrument where instead of "practice, practice, practice" you have to "try on, try on, try on". Another option is to take your own measurements and have the jeans made specifically to fit your body. QVC, the international television retailer, provides that service at no extra cost to you and with their standard 30-day, money-back guarantee. That is a bargain that is hard to beat.
4. A neutral colored trench coat
A standard trench coat looks good on virtually everyone, taking away all of the guesswork. They accent shoulders and slenderize the waist. Even those who don't intend to wear the belt find that tying it behind them helps to accent their curves. Trench coats also come in varying lengths so petite and tall women alike can find one as easily as the average woman. And they come in both single and double-breasted forms in order to suit everyone's personal tastes.
Stick with a neutral color choice such as camel or navy, as you want something that will go with everything in your closet. If you want color or print in your trench, let it be in your lining, not in the coat itself.
5. Three piece suit with pencil skirt, trousers, and blazer (in one, two, or even three neutral colors)
Because you will likely mix and match the pieces of this suit with everything else in your wardrobe, you need to choose neutral colors like black, gray, navy, and/or chocolate. Stick with classic styling and avoid anything and everything with a "trendy" feel. Continue to think simple and elegant
Quality fabric choice is absolutely essential here. When you put the right suit on, you will feel both powerful and feminine. Don't settle for one or the other. You need, and deserve, both.
Trousers should be tailored to fit your body perfectly. Chances are that you won't find something off the rack that works that way. Therefore, you may have to save a few dollars to pay for expert tailoring.
The skirt should be pencil cut or a soft A line. It should be no shorter than mid-knee and no longer than just below the knee. Again, tailoring is key in this piece of clothing. It must not be too tight, nor should it look baggy. Think Goldilocks. It's got to be "just right."
Your suit jacket should not be any shorter than the top of the hip or longer than just above where the hip stops. Anything that is too short or too long is too trendy. Think classic all the way. If you don't like pockets, that's okay. If you don't want single breasted, double breasted is acceptable. If you don't want a collar, then go without. But always go classic.
6. Tees in white, black, and at least one fun color
A simple white tee is indispensable. You can pair it with a long skirt and the right jewelry for a high-class party. You can throw it on with your favorite pair of khakis and be classically casual. No closet should go without one. Most women should also consider a black one. It is equally versatile. The third choice, however, should be a color that suits you. It might be a color that makes your eyes pop, sets off your tan, or makes your skin look perfect. It doesn't matter the color as long as it makes you feel spectacular. Play with a little embellishment like a touch of lace at the neckline or sleeves. Just don't go overboard. Keep it simple and chic.
You can also play with necklines. You might choose a standard U for one; a slight V for another; and a scoop or square for the third. Just make sure the neckline isn't too revealing. Play with sleeve length as well. Choose one with cap sleeves, another with standard short sleeves, and perhaps make the third three-quarter length.
While quality isn't as important here as with other clothing items, you want something that will stand up to multiple washings, resist wrinkling, and avoid stains.
7. A leather jacket
The style and length can vary depending upon your local climate and how you intend to use the jacket. The shortest style should be at least waist length and the longest should skim just above the hipline. However, it can be button down, zip up, or hook and eye, depending upon your own personal style.
It's okay to show a little personality with this piece. If staid black or boring camel just isn't for you, try a chocolate or slightly lighter mocha brown, a beautiful turquoise, or a pumpkin shade. Just make certain the color you choose can go with the other clothes already in your wardrobe.
If possible, opt for real lamb leather. It is softer, more versatile, and infinitely more comfortable. However, there are dozens of outstanding leathers on the market today. Some come in metallic, with punched or embossed detailing, or even embroidery. Just don't go for something too far out of the mainstream.
8. Black pumps
Every woman needs a pair of black pumps. They work with a suit or can be thrown on with a pair of jeans and a cute top for a night on the town. Be cautious in your choice however. Open-toed shoes aren't considered appropriate for some workplaces, as some still consider them too sexy. They can also be a bit more limiting in nature than their closed toe counterpart.
Don't go for a heel that is too high. Of course a lot depends upon the "type" of heel involved. A stacked heel is more versatile than a stiletto. What is 'too high'? Three inches is pushing the limit for some and the standard is between two and three inches. Avoid those with bows and other accents. While they may be trendy today, chances are that by next year the trend will be different.
This is another place to spend the appropriate amount of money to get a quality pair of heels that are comfortable and that can last for several years.
9. A quality medium-sized handbag
Your handbag goes with you everywhere. Consequently, it is often the wardrobe item that everyone sees and so it should make a statement. Handbags that are overly large can be hard to handle and make people wonder what you are carrying inside. A small handbag can easily become overly stuffed and look tacky. A medium sized bag carries everything you need and looks great doing it. That is what you want.
Stick with a neutral color like black, brown, or camel. Your bag needn't match your shoes but you don't want it to clash with them either. Find a bag that you really like. If you "settle" for something that was easy to find, but you don't really love, chances are you won't get your money's worth out of the bag.
10. Jewelry
Choices in jewelry is likely to vary from woman to woman. However, most will want to have at least a watch and a pair of earrings. Watches don't have to be high quality. Many women today prefer to have a wardrobe of watches that suit various outfits. That decision is up to you. Earrings, on the other hand, should be of quality in a precious metal like silver or gold. Button style, studs, or medium sized hoops are preferable but anything simple and classic will work. Another option would be a good necklace, a chunky gold or silver chain or even classic pearls will go without just about everything.
So there you have it. With these ten things in your wardrobe the world should be your oyster. Be creative, have fun, and show off your personal style!
Related Articles:
Related articles
Some simple tips to look great fast
We women push size zero standards on ourselves
Must-have accessories that will never go out of fashion
Top Stories
Choice is everywhere, from hairstyles to fragrances
Options for better teeth
Accordions, buckets, hobos and more - all you need to know
Advertisement