Advertisement
Featured article
The YouTube beauty community
Home video camera beauty tips galore!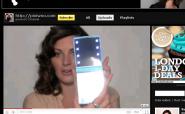 Once a secret but perhaps not so any more due to increasing media attention, YouTube plays host to a whole group of women who, with their home video cameras, are ready to deliver you the latest in beauty gossip.
Calling themselves the 'beauty community,' these videos include 'hauls,' in which you showcase your latest purchases from a shopping trip. 'Tutorials' teach women how to do certain make- up or hairstyle looks, which can be styles according to the season, fashion, or perhaps to copy the latest look of your favourite celebrity.
Other popular video trends include 'monthly favourites,' where women showcase their favourite beauty products of the month. These can be extremely effective, as not only do they claim to give honest opinions on the products, but they also help women in deciding what beauty products to buy. Monthly favourites can also include products that the guru regrets buying, and encourages viewers to steer clear of the product that they dislike.
article continued
Advertisement
The idea of the YouTube beauty community is to help each other, recommend great products, deter you from buying rubbish, teach you beauty and fashion tips and tell viewers what's in fashion and how to create different make up looks.
The more subscribers and viewers to your channel you have, the more popular you become within the YouTube beauty community, until you then earn yourself the title of 'beauty guru.'
There are a handful of respected beauty guru's on YouTube; some are professional make up artists and some aren't. Just some popular beauty YouTube guru's include 'pixiwoo,' 'allthatglitters21,' 'xsparkage,' 'michellephan,' panacea81' and 'juicystar07.'
Among these popular guru's is 'bubzbeauty' who currently has over 480,000 subscribers to her channel.
Lindy has been making videos for just over 2 years, she first noticed her popularity on YouTube when her hair tutorials were being featured on YouTube's homepage, which means that your video receives a lot of attention.
YouTube has opened many doors and offered many opportunities for Lindy, as she explains:
"Thanks to YouTube, I managed to come up with my own clothing range - something I never thought I will be able to achieve. I've been featured in different magazines and newspaper around the globe. I have been asked to do projects with BBC, Warner Brothers and even work within Hong Kong entertainment field."
Many girls wanting to 'make it big' on YouTube always want to know the secret to success, Lindy put's it all down to confidence and personality.
"I think YouTube is a personality driven place. It's important to be able to connect and bond with your viewers. I never like to see myself as a guru and I certainly want my viewers to see me as a sister/friend instead who gives beauty advice."
Lindy insists that, for her, success is not defined by how many views and subscribers she has to her channel; she enjoys being able to help other girls through her influence on YouTube.
"Being able to help someone pick up on their confidence is the most fulfilling feeling in the world. For me- helping girls realise their beauty within is my purpose as a guru."
Samantha, 21, a fashion student from London has also been extremely popular on YouTube over the past year. Also known as 'beautycrush' she started making videos when she discovered the YouTube beauty community through a community blog. The first person she watched on YouTube was Kandee Johnson.
Samantha discovered quickly that her most popular videos were her 'outfit of the day' videos, so she carried on focusing on fashion videos, but now has a mix of fashion and beauty videos.
"Its amazing that I have so many subscribers, its crazy to think how many people that is! I think it helps if you are genuine, honest and just yourself!"
YouTube now takes up a lot of Samantha's time, which is true to many successful beauty gurus on YouTube. It also seems that YouTube is extremely addictive, and many other gurus have integrated YouTube into their daily lives.
"I am on YouTube every day and I try to upload a new video every 2-3 days. In between that time, I am filming and editing which takes a long time in itself. I'm a big YouTube viewer; I watch a lot of different YouTubers. I find it so fun and I love interacting with people through my videos. I feel like I don't know what I did before I was on YouTube!"
When we asked Samantha about her success, her first realization was when she was recognized while shopping.
"I think I realised when a subscriber stopped me in town and said she watched my channel, I was so speechless! I thanked her and I didn't know what else to say! I think when the lines between the 'real world' and the YouTube world blur, it's really surreal and it made me realise."
Some of Samantha's top tips include making yourself interesting, being yourself and enjoying what you do.
"I try to make videos that I think I would watch myself, if I don't think I would watch it then I don't post it. Of course I always hope the viewers will enjoy the videos, and I defiantly get told if they don't!"
There are many viewers on YouTube that can be extremely critical, and there are sites that have sparked from YouTube beauty videos. In particular, 'GuruGossip' is set up and deigned for viewers to 'trash' popular beauty gurus, which can be very hurtful to the gurus and subscribers on YouTube.
"You can't put on a front because I think people can see straight through that. You also have to realise there are people on YouTube that will try and bring you down and you have to ignore that! I always tell girls that you have to keep going with your videos, keep them consistent and if you are not enjoying it, it might not be for you, it should be enjoyable and not feel like a job!"
There are many factors that are persistent in affecting the beauty community and it has already significantly changed and developed over the years, so it will be interesting for viewers to watch how it develops over 2011.
About the Author
Jessica is a journalism student, and beauty and fashion blogger.
Related articles
A time of glamor and blonde bombshells
Your forties are a critical time for your skin
A non-greasy moisturiser with a long-lasting perfume
Top Stories
Don't work that body till you've read these tips
Three ways to have beautiful eyebrows
Beat the sneezing without anti-histamines
Advertisement