Advertisement
Featured article
Choosing the right exercise program
Walking, aerobics, weights - so much to pick from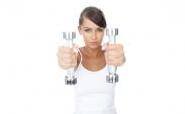 Exercise is something that a lot of people try to avoid because they equate it to pain and hard work. Unfortunately for those who want to lose weight, exercise of some sort must become part of the magic formula. However, there is hope on the horizon, as many exercise programs today can actually be fun - the trick is in finding the right one.
Many physicians and weight loss gurus recommend a combination of cardiovascular exercise for stamina along with strength training to firm and tone muscle. But which exercises will help with that leftover sagging skin that comes with drastic weight loss? The answer to that question is not one that most people want to hear. A lot of the skin's natural elasticity is lost as people begin to age, so those over 50 may not be able to get rid of excess skin without surgery. But everybody - and every body - is different, so the only way anyone will know for certain is to try!
Choosing the right form of exercise depends a lot on each individual's health and physical capability. For that very reason it is imperative that anyone planning to embark on an exercise program meet with a physician beforehand. He will likely want to do a complete physical prior to the program's implementation. After his examination is complete, he can recommend the best type of exercise programs to explore.
article continued
Advertisement
Walking is great exercise for people of all ages. However, walking will realise its true calorie-burning potential only in proportion to the amount of energy invested. Walking slowly for two or three miles will not burn as many calories as walking briskly, swing the arms back and forth, for a single mile. While it may be difficult to walk in every neighborhood or all year round, that isn't a legitimate reason for abstinence. Leslie Sansone has developed a number of in-home walking programs that work every bit as well. Her programs start at a beginning level and advance from there.
Aerobics has been around since the 70's. Richard Simmons helped to pioneer this popular cardiovascular form of exercise. Although aerobics isn't new, it is still effective and there are a number of pre-developed programs already out there. Simmons' "Sweatin' to the Oldies" continues to be a favorite among those who prefer an exercise that is as much fun as it is hard work. In addition, a number of new dance and standard aerobic DVDs have also flooded into the marketplace. Each is designed to get the blood pumping and the heart beating at the right level.
Weight lifting has been around for decades. For a long time, it was strictly a man's exercise, but no more! Women started weight lifting to build and tone muscle. Some have enjoyed the way the process sculpted their bodies so much that they, too, have become members of the body building club. Even those who use simple hand and leg weights to gain greater strength have learned to love this exercise form. With today's myriad of weight training equipment available, almost everyone can lift weights in the comfort of their own home and in their own time.
Other forms of exercise like Pilates and Yoga have also become popular for a good reason - most people can take part in them at some level. They also have beginning, intermediate, and advanced programs available. Classes can be easily accessed through gyms and community centers or they can even be practiced at home.
Whatever form of exercise is chosen, it has to be practised properly and consistently in order for it to be effective. That's why it is best to do some exploration of different forms of exercise before zooming in on just one. Once a form has been chosen, it is important to research its "do's" and "don'ts". Exercising improperly will negate its effectiveness and could cause physical damage. In most cases, it is best to seek the assistance of an expert in the field to get started. After that, it is time to take off and have fun!
Related articles
The nine most common problems to avoid when trying to lose weight
What your waist and your BMI tell you about your health
How you can relax as you detox with a salon foot spa treatment
Top Stories
A look at pubic hair removal methods
How breathing properly can make you feel better
Find out if foam hair colors are worth the extra money
Advertisement