Advertisement
Featured article
Jean rise - one size doesn't fit all
Find jeans with the fit you really want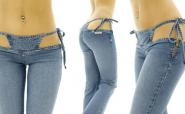 Jean rise is the measurement from the furthermost point of the pant's crotch to the waistband. Front rise refers to the measurement from the top of the waistband to the bottom or the crotch. Back rise refers to the measurement from the bottom of the waistband to the crotch.
While many jeans claim to have a "standard" rise, in truth there is no such thing. Jean rise can vary from designer to designer and manufacturer to manufacturer. However, a standard rise usually refers to a jean that strikes a woman at her natural waistline. As a rule they average about 10 to 12 inches in total measurement from waist to crotch.
The vast majority of low-rise jeans fall anywhere from two to three inches below the natural waistline. However some can plunge slightly deeper; expect an average low-rise jean to measure around 6 to 8 inches. Ultra low-rise jeans can go another two to three inches shorter still, making them as little at 4 to 5 inches in total, and Brazilian low-rise jeans drop even further, with a mere 3 inch rise in some instances. Additionally, keep in mind that when it comes to low rise jeans, the back rise is always cut higher than the front. This is done in order to avoid any unsightly exposure of the buttocks.
article continued
Advertisement
High rise jeans – sometimes referred to as "Mom" jeans – are often above the waistline, measuring as high as 15 inches. Unfortunately, that ends up giving them a more dowdy appearance overall, which accounts for the dreaded nickname.
The modern rise jean made its appearance in recent years because women wanted something to counteract the much feared "muffin top"; that roll of fat that always wants to show up around the top of jeans. A modern rise cut usually falls just below the waistline or down to the mid belly button. They typically measure between 8 to 10 inches from waist to crotch.
A few manufacturers make a drop rise jean that extends the crotch another 2 to 6 inches for those who want to wear their jeans below the crotch to mid thigh. However, for the most part, this hip-hop look is simply accomplished by buying jeans that are too big or baggy and that naturally "drop" to the length desired.
Jean rise can vary greatly between denim manufacturers. While most calculate the rise using the waistline as the starting point, a few focus on the belly button area instead. This can cause a major difference in rise between denim brands.
When shopping for jeans, be aware that your body measurements could have an effect on the cut and rise of the jeans that will fit best on you, so going shopping armed with those measurements can help make the trip much less frustrating. But keep in mind that accuracy is imperative – get those measurements right or you won't be satisfied with your choice in the end!  Here's how:
First, measure your waist at its smallest point. Do not pull the tape tight. Keep it slightly flexed for an accurate measurement. If you want, you can shop for jeans that are slightly bigger than the waist measurement taken for a relaxed fit. Do not however shop for jeans that are smaller than the measurement taken. They just won't be comfortable, even if you can squeeze into them, and you won't get your money's worth from the garment.
Next, measure your hips at their fullest point. For most women, this is about halfway between the waist and where the thighs begin. Once again, keep the measuring tape flexed slightly. You want a good fit, not one that is too tight. Avoid the urge to buy jeans that are either smaller or larger than that measurement. Jeans "give" as you wear them and may become too baggy if you choose larger hips. On the other hand, those that are too tight could cause zipper issues.
The next step is to measure from your natural waist to the bottom of your crotch to determine your actual body rise. As a rule you will want to choose jeans that fall somewhere within that total measurement.
Finally, measure from the bottom of the crotch area down the inside of your leg to the instep of your foot. This determines average seam length. Inseam choice will vary depending on how the jeans will be worn but I will cover these options in a future article.
Most jean brands will provide measurement charts to compare yourself against. They often include alternatives for standard, low, ultra-low, high, or modern rise jeans, making your job easier in locating jeans to try on. But never purchase jeans based on measurements alone, always try them on to make sure they fit the way you want them to. Sit, stand, walk and move around in the denim as much as possible to make sure they move with you. In the end, fit is always the key element. Nothing matters more!
Related Articles:
Related articles
An era of poodle skirts, halter-tops and saddle shoes
Are you a spring, summer, fall or winter woman?
Make a new outfit out of what you already have
Top Stories
Tips for judging your local beauty salon
Tons of tips to keep hair bright and beautiful
A mascara that feels great but is a pain to apply
Advertisement