Advertisement
Featured article
Review: Maybelline Instant Age Rewind Double Face Perfector
A fantastic undereye concealer and highlighter in one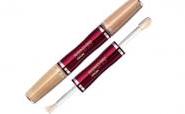 I'm constantly in search of an undereye concealer that will actually cover the suitcases I carry beneath my eyes. However, I find that I "miss" far more often than I "hit". Most concealers are too heavy for the extremely delicate undereye skin of a woman over 50. A lot of them leave nothing behind but that not-so-attractive raccoon eye look.
Even when I finally do find a concealer that works under the eye, it doesn't work for other blemish coverage or for highlighting purposes. So I end up buying two or more products instead of just one. However, Maybelline has finally come up with a remarkable solution in a single product.
Maybelline's Instant Age Rewind Double Face Protector is both a concealer and a highlighter in one compact, easy to carry pen. I must admit that the first selling point was getting two products for the price of one. Once I tried it, however, the product sold itself. This one really works.
article continued
Advertisement
The concealer provides the maximum coverage with carefully pigmented cream infused with moisturizing glycerin that actually hydrates the skin to make it look younger. The highlighter visibly brightens and adds a luminous touch to the corner of the eyes, cheek and brow bones, bridge of the nose, or contours of the lip with its finely-ground, light-reflecting pearls.
The product's gentle sponge applicators make both the concealer and highlighter easy to apply. All you have to do is dot it on and then blend it out with the fingertips. It couldn't be easier. I wear mine under makeup, of course, but I also apply it on days when all I want is flaw coverage without a fully made up look. It works beautifully both ways.
Maybelline Instant Age Rewind Double Face Protector comes in four concealer shades: light, light medium, medium, and dark. It retails for around $8.99 and can be purchased virtually anywhere that Maybelline makeup can be purchased.
The Verdict
This one is worth every penny. Forget the expensive stuff. This one fits the bill!
Related Articles:
Advertisement