Advertisement
Featured article
Finding the right pair of jeans for you
How to choose the jeans that look right for your body type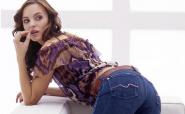 If there is a single fashion article that you count on finding inside the closets of most women, it would be a pair of jeans. Most of us, in fact, own several pairs; some in light denim, some in dark denim, some that are stressed, and some that are acid washed.
Now that I no longer work outside of the home, most of my wardrobe consists of denim. However, that wasn't always the case. A few years back I didn't own a single pair of jeans. Why? Because I couldn't find a pair that I thought suited my body.
Let's face it, we women don't wear jeans just to have something to put on. We wear them to make a statement and, for obvious reasons, we want that statement to say "bodacious babe!" However, finding jeans that fit properly to accentuate the positive and negate the negative can be a daunting task. Some of us don't even have a clue where to begin.
article continued
Advertisement
Gone are the days of the single "cowboy" cut pair of Levis that so many of us wore in our youth. The truth of the matter is that those old fashioned jeans only looked good on about one-quarter of the population. The rest of us ended up looking like sausages stuck in a too tight casing or like little girls dressed in mom's obviously too-big clothing.
Today, however, there are hundreds of denim brands on the market. Each brand generally consists of several different cuts. Some of the most common include:
the skinny jean
flare cut
boot cut
wide leg
straight leg
high rise
low rise
mid rise
...and others
Before you can find the best fitting jean for your body type, you must first have a clear understanding of what your body type actually is. That, in itself, is no easy task since a lot of us aren't a clear-cut type, but often a mixture of two or more. To help you determine what that might be, let's explore the differences.
Determining your body type
Curvy women like me often tend to have an hourglass figure. Back in the 40's and 50's that type of figure was highly desired. Men liked their women to have curves. Today, however, we are a bit outdated since modern man seems to prefer a slimmer form. Consequently, some fashions on the market today are not cut to fit our body type. Unfortunately, that also includes jeans.
Hourglass figures tend to have an average to ample sized bust, full hips, a rounded bottom, and a defined waist. Think about what was once considered the perfect figure – 36/24/36 – and you've got the hourglass shape.
An amazing number of women, particularly those over the age of 50 and women with sedentary lifestyles, fall into the pear shaped category. The overall silhouette looks just like its name suggests. It is that of a pear; smaller on top and bigger on the bottom. Women who fall into this category generally have a smaller than average bust size, a well-defined waist, exaggerated hips, and a full rounded bottom. It is often difficult to purchase an outfit straight off the rack to fit this body type. If the bottom piece fits, the top is often way too big. On the flip side, if the top fits properly then the bottoms are generally far too tight.
While the more Rubenesque women of days gone by often fall into one of the top two categories, today's ideal woman is totally different. A common body type today is rectangular in shape with an average bust size, flat bottom, and waist that is barely defined. It is often referred to as a "boyish figure."
Although the rectangular body is generally slim overall, few garments, including jeans, are made without clear definition between the bust, waist, and hips. I know lots of women with this body type who end up purchasing their jeans in the boy's department. While the jeans may fit better than most that are made specifically for women, they are by no means perfect.
Another common form among today's woman is the inverted triangle. Although there are some similarities between this and the pear shaped body type, there are also decided differences. Women in this category tend to have a medium to ample sized bust, an average waist, and narrow hips. Bottoms can be average with a shape that is flat or slightly rounded.
Once you have defined your body type, it becomes easier to shop for jeans that will fit.
Finding your best fitting jeans
With all of the styles available today, it is possible to camouflage any figure flaw so that jeans accent the body and make a woman look her very best.
If you have determined that your body type is hourglass, you will want to look for jeans that have a smooth fit. Avoid extra pockets, especially in the back, and heavy denims that tend to be bulky particularly in the thigh area. Think about choosing stretch denim that will hug your natural curves and make the most of your womanly form. Seek out jean cuts that tend to be fuller in the hips and narrower in the waist in order to avoid an unsightly gap in the back area. Mid-rise jeans look best on women with average to longer legs while low-risers are better for those with a short waist. Avoid jeans that are too big or baggy as well as those that are too tight. A flare at the bottom of the leg will help even out the overall look. Medium to dark washed denim best suits the hourglass figure.
Women who are pear shaped should choose softly flared or boot cut jeans for a long, lean look. Avoid anything that is too tight as they will likely result in an ugly muffin top effect. Also avoid extra pockets, especially those on the backside that will accent the negative. Low-rise jeans that fit properly will make this body type's torso appear longer. Stay away from pleating of any kind and quickly move away from horizontal detailing, particularly in the hip area. In fact, embellishment on the whole doesn't work well on this body type. Choose dark shades of denim in stretch fabrics that fit well.
If your body type is rectangular, look for straight-legged jeans or those with a slightly flared leg. You can generally wear gentle relaxed cuts but don't think about jeans that are baggy. This body type can pull off the tapered cut in some instances but it isn't highly recommended. Those who are short waisted can easily wear low-rise jeans while long waisted figures can choose a higher waist. Look for jeans that accentuate your curves, particularly in the hips. A contoured waistband can create additional curves for those who want them. Back pockets with flaps or embellishment can make the butt look fuller and add some often-needed bulk. Stone or acid washed jeans or those with fades along the legs also help to add shape to this figure type.
Inverted triangular body types should choose boot cut or flared leg jeans in order to promote a long, lean look. Avoid tapered and straight-legged jeans, which aren't flattering on this body type. Women in this category want styles that enhance their backside without giving off any appearance of sagging. Unusually svelte figures should choose jeans with side pockets to give the illusion of a fuller thigh area. Jeans with back yokes will also add much needed fullness to the backside. Low-rise jeans with contoured waists look wonderful on women in this category. Embellishments and fancy washes are also perfect for this body type. Lighter wash colors and jeans that fade along the legs add shape to the thighs while darker washes will make hips look smaller.
General tips for choosing the best jean fit
If you throw up your hands in desperation because you just can't figure out which body type you are, then try sticking to some general tips that should offer any figure a longer, leaner look:
Choose stretch denim. Not only is it more comfortable, it is also more forgiving.
When in doubt, opt for a relaxed fit, medium rise jean.
Never choose jeans that are too bulky or baggy.
It's hard to go wrong with the standard five-pocket classic jean.
Most women can wear boot cut and flared leg jeans because they make any figure look long and lean.
Few women can wear the skinny jean or tapered cut well because they basically require the perfect body. If it's a choice between jeans that are snug or those a little big, go for the snug. Denim relaxes as it is worn.
Don't choose jeans that are either too short or too long. The hem should cover most of your shoe.
Darker denims make any body appear slimmer while excessively light denims can actually add bulk.
Avoid focusing on "size" and pay attention to "fit."
Be certain that back pockets don't add ugly bulk or make the bottom look too large because of embellishment.
Just because everyone else is wearing embellishment doesn't mean you have to if it doesn't flatter your figure.
Make sure that "fades" accent your figure rather than working against it.
Take your body measurements with you on your search so sales clerks can help you locate the right fit.
Don't get hung up on a designer label. Look for jeans that fit, even if that means a cheap pair of Levis.
Once you understand which cut and fit of jean best suits your body type, narrow down your choices that also suit your personal style. To make a statement with your jeans, they have to suit who you are as a person. That is almost as important as the fit itself.
Jeans brands worth trying
I've tried on a lot of different jeans over the years and for me designer Diane Gilman's DG-2 jeans offer the best fit and variety of options. Diane started in the business designing jeans for singers like Cher, Janis Joplin, and others. Her connection with the rock world also made her an expert in the area of embellishment. She designs hand-painted, embroidered, and bead embellishments that are both stunning to look at and lots of fun to wear. She also does denim in a variety of fits, cuts, colors and washes that give her customers tons of options. For a look at Diane's jeans, visit hsn.com.
Other popular jean brands include:
Banana Republic
Diesel
Faded Glory
Gap
Levis
Lucky
St. Johns Bay
Seven
True Religion
Most are available at local retailers as well as on-line.
Although the popular belief is that you have to pay premium bucks to find a pair of great fitting jeans, nothing could be further from the truth. Often designer jeans simply aren't made to fit every body type. If it is a choice of owning a pair of Calvin Kleins that don't fit properly or a pair of Levis that fit like a glove, the option should be clear.
With denim continuing to gain popularity, finding jeans that fit both your body and style is a must. Hopefully this information will help get you started in the right direction.
Related Articles:
Related articles
find out which body slimmer is best for you
Lipstick, hair, clothes - the errors to avoid
Choice is everywhere, from hairstyles to fragrances
Top Stories
Accordions, buckets, hobos and more - all you need to know
The dangerous chemicals in beauty products and how to avoid them
Our bodies need sunlight - but you have to be careful
Advertisement