Advertisement
Featured article
Review: Olay Ultra Moisture Body Wash with Shea Butter
A shower gel that feels great, smells great, and nourishes your skin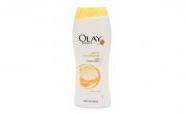 I am always trying out new body washes in the shower, and I may have found "The One" for me - Olay Ultra Moisture Body Wash with Shea Butter (as it is called in the US; in the UK it is called Olay Body Wash for Extra Dry Skin).
I am a loyal fan of Oil of Olay products, so when I heard the Oil of Olay was coming out with a body wash with additional moisturizing properties, I couldn't wait to try it out. Now, I will never look back.
Olay Ultra Moisture Body Wash with Shea Butter is described as a "skin wash with additional moisturizers in a gentle, soap-free cleansing formula." The ingredients that moisturize and protect your skin are Shea Butter, and vitamins E, A, and B3, that are said to "penetrate deep within the skin for conditioning for up to 24 hours".
article continued
Advertisement
As with any shower gel, you squeeze a small amount onto a web bath puff, lather, and rinse. Use the Body Wash in the shower to cleanse and moisturize in the same step – and you can use it as a shaving agent as well.
Olay Ultra Moisture Body Wash comes in a pretty, tall 23.6 fl. Oz. plastic bottle with a flip-top cap and a narrow 'waist' that makes it easy to pick up, and you can store the bottle upside-down to ease dispensing. The price comes in at about $7.99, which is a bit steep for shower gel, but a little of the cream goes a long way and for what this product does, it is worth the money.
You will notice the creamy, rich texture of Olay Ultra Moisture Body Wash the second you start to use it. In fact, it feels so rich you will wonder if it should be just for special occasions… but put that thought aside!. The scent is light, sweet, and a touch fruity - not obtrusive at all, just enough to make you feel great.
The wash itself becomes a very rich lather that feels just wonderful on your skin. Luxurious, even. It rinses off nicely, and though you can moisturize your skin with your usual daily lotion afterwards if you like, you won't feel you need to.
I found my skin felt so amazing after using this that I started using it on my face as an additional in-shower cleanser. There is no question that this body wash has moisturizing properties; my skin felt like velvet afterwards, and the claims that the effect lasts 24 hours are true. When I use it for shaving, my legs feel great.
Once again, Oil of Olay has a winning product on their hands. I happily recommend Olay Ultra Moisture Body Wash with Shea Butter to anyone who wants to feel like a silken goddess all day long!
Advertisement