Advertisement
Featured article
Which mascara is best for you?
A guide to choosing and using the right mascara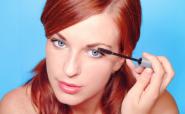 A lot of women have wimpy eyelashes, myself included, so, the search for the perfect mascara has occupied a lot of my time and money! During that search, I picked up information about the product that I'd like to share.
There are different kinds of mascara products. There are those that thicken and those that lengthen. There are build-a-lash, non-clumping, and curling products. And there are those that are waterproof. There are massacres with lash combs and ones with brushes. There are many colors of mascara. With everything on the market, it's no wonder that women don't have a clue what to purchase.
Mascara today is better than it's ever been before. A lot of products are protein-enriched to protect even the most delicate eyes. Others contain conditioners to smooth and plump. There really is a mascara out there to suit everyone's needs.
article continued
Advertisement
Thickening mascara is perfect for women who have baby fine lashes. These usually contain waxes or polymers that coat the lashes. Lengthening massacres generally have a dense bristle wand that makes it possible to get more product on the lashes, particularly on the lash ends.
Build-a-lash mascara has a combination of properties to make lashes appear both thicker and longer. Many contain fibers that adhere to the lashes to give them more bulk. Non–clumping mascara contains extra ingredients like glycerin or silk extract to ensure a smooth lash coating. Curling mascara curls the lashes as the product is applied.
Waterproof mascara contains synethics that repel moisture to prevent the mascara from running when exposed to water. But waterproof isn't perfect for everyone and certainly isn't recommended for those with delicate lashes, because it can cause lash loss and breakage.
The use of a lash comb or a lash wand is debatable. I find it a matter of preference. I think combs are more difficult to use; however, a lot of makeup artists swear by them, claiming combs prevent clumps and provide better lash separation. I prefer wand applicators. I find them easier to use and they simply work better for me.
Most people agree that mascara should either be the same color as your lashes or darker. A lot of women prefer to use black. However, some argue that those with light colored hair - like my strawberry blonde - should use brown mascara during the day, saying that black is too harsh. I agree that black can be harsh if applied incorrectly, however, I find that a light coat of black mascara is more effective than multiple coats of brown.
I'm not keen on colored mascara as a rule, but I occasionally use navy blue to bring out my blue eyes, while my daughter sometimes uses forest green to bring out the green flecks in her hazel eyes. I believe that colored mascara can be fun and flirty but I don't recommend it for daily use.
Whichever mascara you choose and whatever color you use, there are few things that you can do to make sure you get the application you want.
Tip #1 – Put powder under the eye before applying your mascara. Mascara tends to smudge more when the under-eye is oily because of makeup creams and concealers.
Tip #2 – Use an eyelash curler. Curled lashes make the eyes appear bigger and brighter. I personally prefer the new heated curlers. I find that they curl my lashes much better, in a shorter period of time. And they aren't that expensive at around $10.
Tip #3 – Use a mascara primer. Primers help to separate the lashes as they provide an extra coating to help them look thicker. Makeup artists swear by them.
Tip #4 – Apply mascara from root to tip. First, wiggle it into the lash base and then gently sweep it to the ends. This will help to give your lashes the illusion of being long and luxurious.
Tip #5 – Avoid blinking until the mascara is dry. This is particularly important if you are adding a second or third coat. Extra coats take longer to dry and are more likely to cause smudges.
Always remember that mascara is a breeding ground for bacteria and should be changed often -at least twice a year, and more often if you have sensitive eyes or skin.
Once you find a mascara that works for you, write the name down so that you can easily find it. There is nothing as frustrating as getting to the department store and not being able to remember which mascara to purchase. Wasting money is never much fun, so make the most out of your mascara today - and tomorrow!
Related Articles:
Related articles
A beautiful moisturiser that claims to reduce age spots
A fantastic undereye concealer and highlighter in one
Choice is everywhere, from hairstyles to fragrances
Top Stories
A value-for-money mascara, but does it do all it claims?
Get your cheeks glowing with Revlon's new gel blush
Two giants combine to produce a wonderful new foundation
Advertisement