Advertisement
Featured article
Review: Maybelline Lash Stiletto Mascara
A value-for-money mascara, but does it do all it claims?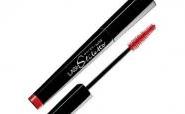 According to Maybelline, Lash Stiletto is supposed to do for eyelashes what stiletto heels do for a woman's legs. It is a clever claim, if not one the product can live up to. That's not to say that Maybelline Lash Stiletto isn't good mascara - it is as effective as most of those on the market today - however, I don't think it the best.
The packaging is eye-catching and beautiful. The mascara comes in a shiny black tube shaped like the heel of a stiletto, finished off at the end with a red metallic tip. Silver writing identifies the brand name with eye-catching appeal; you certainly have to give Maybelline points for capturing customer attention while providing packaging that is easy to store, since it will fit into a pocket or small handbag.
Unfortunately, the mascara brush itself isn't anything unique. It works well if you apply the mascara properly, moving up from the lash root to the tip in one swoop. However, one coat of the product isn't sufficient for most lashes. It will take two ore three coats to make them stand out and it is imperative that the lashes not be allowed to dry out in between coats. Otherwise, they may clump together.
article continued
Advertisement
The product claims that its "elastic formula stretches lashes to a provocative length". I didn't find that to be the case! I compared it with several other mascara brands that I use and found it worked no better than my favorites Almay One Coat and L'Oreal's Lash Out. I also did not note any of the "patent leather shine" also claimed by Maybelline. On the other hand, I did think that the pro-vitamin formula conditioned my lashes well. When I removed the mascara, they were unusually soft and supple.
Lash Stiletto is ophthalmologist-tested, which makes it safe for use by those who have sensitive eyes as well as those who wear glasses or contact lenses. The mascara removes easily using baby wipes, soap and water, or makeup remover.
Lash Stiletto is well priced at under $8. It is just as good, if not better, than many other products of its kind. However, you might be disappointed if you purchase it expecting your lashes to look like a movie star's, unusually long and thick. While it may work for some, it obviously didn't work for thin, fragile lashes like mine.
Lash Stiletto can be purchased anywhere that Maybelline products are sold which includes beauty boutiques, discount department and drug stores, as well as some grocery marts. It comes in black brown, black, and very black.
Advertisement