Advertisement
Featured article
Review: Neutrogena Skin Soothing Undereye Corrector
A concealer that really does soothe those under-eye circles away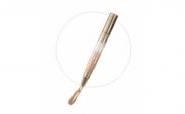 The search for the perfect concealer
Women have been searching for the perfect concealer for decades. The problem is that there is no single concealer that is perfect for everyone. Locating the correct concealer for your skin type and skin tone can be both frustrating and expensive.
There are a large variety of concealer products on the market today; all claiming the ability to hide the luggage we carry under our eyes. There are powders, creams, liquids and sticks. There are pots, tubes, wands, and pens. Most of them work on the right type of skin, but fail miserably when applied incorrectly.
I have very delicate, thin skin that is compounded further by my age. I also suffer from insomnia and allergies; two more issues that often make undereye circles more prominent. Needless to say, the bluish-purple circles under my eyes give me great pause.
article continued
Advertisement
I've been searching for the perfect concealer since I turned 40. Unfortunately, I've had a lot more misses than hits. However, occasionally I get lucky and find something that works for me.
Neutrogena's Skin Soothing Undereye Corrector
One of my current undereye concealers of choice is Neutrogena's Skin Soothing Undereye Corrector. I initially chose the product because I have found over the years that Neutrogena make-up works well with my type of skin. I also like that the company spends a great deal of time on clinical testing before putting their products on the shelf. Their standards are rigorous and their reputation in the beauty industry is impeccable.
I like Neutrogena's Skin Soothing Undereye Corrector because it is lightweight and creamy, which is essential for my aging skin. The product feels soothing to the eye as it goes on, delivering a wonderful cool sensation. It has a silky-smooth in texture that blends like a breeze. Best of all, it really does help to eliminate puffiness and minimize dark undereye circles.
The easy-to-use pen applicator is ingenious and the brush tip allows me to use as much or as little concealer as I need. The dial mechanism prevents excess product waste, allowing me to dispense only the amount needed for each application. The light reflectors in the product give a simulated "lift" to the eye and the illusion of being well rested and radiant.
Because I have severe allergies, I tend to have watery eyes. However, for the most part, Neutrogena's Skin Soothing Undereye Corrector holds up well without needing constant touch ups. The product is non-irritating to even my sensitive skin and it doesn't clog my small pores. It removes easily with soap and water or any skin cleanser.
On the negative side, the concealer currently comes in only two shades - natural light and soft light. While natural light is the perfect shade for my fair skin, it obviously will not work for darker skin tones. Hopefully, the company is in the process of adding additional shades to their collection.
The cost may be an issue for some people. It is about US$8.99 for a .05 oz pen, which should last about six weeks if used daily. There are obviously cheaper products on the market, so each individual needs to weigh the pros and cons for themselves.
For me, overall, the pros far outweigh the cons of this product. I think it's a winner worthy of four out of five stars.
Related Articles:
Advertisement