Advertisement
Featured article
Review: Rimmel Eye Magnifier Eye Opening Mascara
A mascara that feels great but is a pain to apply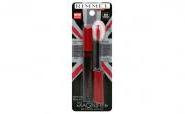 I'm always searching for a better mascara. I really don't know why, since I absolutely love my Almay One Coat - it makes my lashes look amazing! Still, recently Rimmel's Eye Magnifier Eye Opening Mascara caught my attention.
First, I couldn't help but admire the beautiful black and red packaging; it made me want to pick it up the moment I laid eyes on it. From there, I was intrigued by the separation of the application wand from the mascara itself. I could see right away that the applicator brush was different from anything I'd ever tried before - so of course I couldn't resist giving it a try!
According to Rimmel's advertisement, the Eye Magnifier's unique plastic applicator "lifts lashes vertically by 70%" and delivers a wide-eyed look that makes eyes appear to be larger. The packaging also proclaims the ease of the applicator brush, which supposedly offers the control of an eyelash comb.
article continued
Advertisement
I have to say that I totally disagree.
The applicator wand is actually made of a fairly hard plastic with no real bristles of any kind. While it is true that the applicator prevented the spread of too much product on the lashes, that was more of a problem than a benefit. It took about six coats of the product before I could even "see" my lashes in spite of the fact that I was using black mascara. By then, of course, I had obvious clumps in certain parts of my lashes.
As much as I hate eyelash comb applicators, I actually hate this wand even more. It is too stiff and much too difficult to use. I finally mastered it after several hours, but by then I was completely frustrated.
I also disliked the fact that I had to wait for each coat of mascara to dry before applying another – this meant a lot of wasted time. I also found it odd that the product comes in only two colors: brown and black.
On the positive side, I did note a slight "lift" in my lashes as I applied the mascara. However, it was closer to twenty or thirty percent; certainly no where near the 70% claimed in the packaging.
I also liked that the product was easy to remove, both when I made a mistake and got it underneath my eye, and when I was ready to take it off altogether.
The Eye Magnifier Eye Opening Mascara had other positive aspects too; I liked the "feel" of the mascara on my lashes; it was fairly light and not at all scratchy or abrasive; and it did not appear to dry out or flake off the lash as some mascaras do, which can irritate sensitive eyes.
Eye Magnifier Mascara is not waterproof, which I consider a plus, since most waterproof products tend to damage the eyelashes. Unfortunately this does mean that the mascara might run if exposed to water through tears, rain, or when swimming. To me that's a non-issue, but it might be important to other women.
Rimmel claims the mascara is ophthamologically tested and suitable for sensitive eyes and contact lens wearers. I don't wear contact lenses but I do have horrible allergies, and I didn't find this product irritating in any way.
Eye Magnifier Eye Opening Mascara is available in most drug and discount stores as well as online for about $6.50, which is about the average cost of its closest competitors.
Overall Rimmel's Eye Magnifier Eye Opening Mascara has both positive and negative points. I won't be purchasing it again, but it certainly isn't the worst product on the market, and it may be a product you'll need to try for yourself to see if it fits your particular needs.
Related Articles:
Advertisement