Advertisement
Featured article
Coloring your hair at home
Dyeing your hair on your own? Read this guide first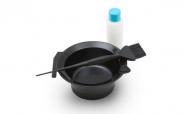 Every woman strives to look her best. She chooses clothes that compliment her shape. She wears cosmetics that enhance her natural beauty. She sometimes even makes slight changes that will enhance her appearance. One of the most common is changing hair color.
Coloring hair not only helps a woman reflect who she feels she is inside, but it can also add a little bit of volume and texture to fine, limp or lifeless hair. For blondes and redheads in particular, it also imparts the shine that not all shades naturally possess.
While hair coloring at home may seem easy and completely innocent, everything isn't necessarily as it seems on the surface. There are as many reasons not to color hair as there are to do it. That is why it is important to understand those negatives before making the decision to color.
article continued
Advertisement
There are things every woman must take into consideration before coloring her hair. The first is the condition of the hair. Hair that has been recently chemically treated might not accept color well or result in severe damage. Hair that is already full of chemicals could also have an unexpected reaction when adding new ones into the mix. It is therefore best to wait a few weeks between different chemical processes like relaxing or perming and hair color. Hair that is already damaged doesn't need the additional stress; take time to repair the existing damage through deep conditioning before taking the risk of causing more.
The next consideration is a woman's skin tone and coloring. While her heart may say she is a platinum blonde, her olive toned skin and dark eyes may say differently - not every color looks good on every person. The trick is to choose a shade that works in conjunction with what Mother Nature already delivered. The good news is that most women can go any color they desire if they find the right shade, which I'll talk about later in this article.
It is also imperative to think about the level of color change desired. Home hair dyes are predominantly made for mild changes that only go up or down one to three shades. A woman who is blonde looking to go black or vice versa, should employ the services of a professional in making such a drastic transition. That kind of hair color change isn't possible with perfect results when it comes to home hair dyes. To achieve it, one would have to pile layer upon layer over the hair or bleach it out completely. That can cause irreversible damage so it is best not to even go there.
It is equally important to make sure the color change will be as desired. Even if it seems like a simple transition from strawberry blonde to dark brown, the shade chosen must be sheer perfection. After all, it will be a long time before those locks shine red again. The best way to choose the right shade is to try on different wigs within the desired color family. For example, I often long to take my light red locks a bit darker in color. However, being an older woman I am also aware that going too vibrant a red will look fake and make me unhappy over the long haul. By trying on wigs, I am able to zero in on the shade of red that looks natural as well as fulfills my every fantasy. It will also let me know whether or not a home dye job is feasible or if I need to save my pennies to get it done professionally.
Never rely on the color noted on the dye box. Hair will always come out darker than the color noted by two or three shades in the red and brunette categories and by at least one shade in the blondes. If hair swatches are available for viewing, go by those instead. They offer a closer representation of the color that can be expected. In the long run, those wanting to achieve a very precise color, should always seek out a professional instead of trying to do the job at home.
Avoid allergic reactions to hair dye by trying it out somewhere on the body before applying it all over the head. Each hair dye provides instructions for doing the allergy test. It is imperative to take the time to follow them in order to avoid what could end up being a life-threatening situation.
Always do the strand test when trying out a new color. There is no guarantee the hair will accept the color exactly as noted in the color swatches, so it is best to see the exact color results first hand. The process is easy. Just cut a few strands of hair from an area of the head where it won't be noticed. Tape one end of the strands together so they will not separate while coloring. Then carefully follow the color instructions from start to finish. Once the completed dye job has dried, it shows an accurate representation of the color results.
Some people like to mix different hair colors together to create a new personalized shade. I don't think this is a good idea for someone to do at home; those seeking a personalized shade should invest the money to have a professional do the job correctly.
When it is time to cover the roots, it isn't necessary to repeat a complete hair coloring. That will over-process the ends of the hair, drying them out and causing damage. Instead, simply follow the root application instructions provided along with the dye for a perfect rebirth of the desired color.
Women who are pregnant, planning to become pregnant or breastfeeding should avoid dying their hair at home or otherwise. Scientific studies indicate there could be a link between the chemicals of hair dye and certain types of birth defects. It is best not to take the chance.
Always consider dyes that do not contain ammonia and that have a shorter processing time. Avoiding harsh and over-processing can help retain your hair's natural beauty.
Related articles
Dealing with haircut blunders
What causes it and how to fight back
Some common questions about hair care answered
Top Stories
How to use a hair straightener for a soft-looking, sleek hairstyle
Sun is essential to fight Vitamin D deficiency
A look at an era of rising hemlines, bobs, and Coco Chanel
Advertisement