Advertisement
Featured article
Review: InStyler Rotating Hot Iron Hair Straightener
A combination curling and flat iron that promises much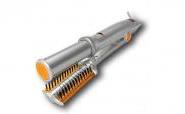 Having baby fine, delicate hair I am constantly looking for something to help me obtain some of today's hot new styles. After watching several infomercials on television for a new rotating iron called "The InStyler," I decided to give it a try.
It looked simple enough to operate and promised to give dry and damaged hair a beautiful sheen. Best of all, it looked like it was easy to use no matter what style you wanted to achieve; it straightened kinky hair and waved or curled already straight hair.
Unfortunately, the commercial made the product look far easier to use than it really is. After multiple tries, I discovered I still had not achieved any level of accuracy with the styling iron. What I had managed, however, was to further dry out and damage my already delicate hair.
article continued
Advertisement
Not wanting to be unfair in my assessment of the product, I decided to ask my daughter, daughter-in-law, and some friends to check it out as well. My daughter also has fine hair but it is thicker than mine is and she is an expert with a traditional curling iron. However, even she could not master The InStyler.
My daughter in law has natural curly hair that is thick and coarser in nature. She also had problems conquering the product, although she did like the final results once she did.
The results for my friends were pretty much the same. Those with thin, delicate, or fine hair hated The InStyler while those with thicker, coarser hair experienced better results. However, even they said they could not justify the $120 price tag.
This product gets mixed reviews. It apparently works on thick hair or hair that is coarse. However it is far from easy to operate; the learning curve is long and frustrating to say the least and it is far too easy to damage hair with the product's heating planes.
The InStyler can be purchased from television infomercials or through the television-shopping network QVC. The cost varies slightly but ranges between $100 and $120.
I could not, in good faith, recommend this product. It is too difficult to handle and can cause permanent hair damage.
Advertisement