Advertisement
Featured article
Mineral makeup: what is it and why is it better for your skin?
A mineral makeup FAQ - what makes these cosmetics so popular?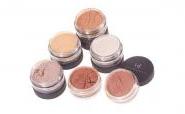 In recent years mineral makeup has taken the cosmetic world by storm. Paving the way since 1976 is the pioneering brand, Bare Escentuals i.d., which now finds itself in competition with some of the most famous cosmetic brands in the world. But what exactly is mineral makeup and why is it better for your skin?
What is mineral makeup?
Mineral makeup, in its purest form, is makeup that comes directly from the minerals of earth. However, it isn't just the minerals that make the makeup unique; the process through which the minerals are finely ground is just as important, because it is the light, airy "feel" of a good mineral makeup, its amazing covering power and the fact that it doesn't clog pores that make it the most popular cosmetic of the new millennium.
Genuine mineral makeup products are free from preservatives, artificial colors, talc, oils, fragrances and other skin irritants. They don't use fillers or binders and are virtually weightless. Such products remain true to the original concept of providing natural makeup while managing to provide adjustable coverage from light to full.

article continued
Advertisement
In contrast, several highly respected cosmetic brands have opted not to remain true to the purity of earth minerals. They choose to add oil, talc, waxes, fillers, colors, binders, preservatives, or other chemical additives to their formulas.
A controversial issue is the inclusion of an ingredient called bismuth oxycholoride. While it is true that bismuth oxycholoride is a mineral, it isn't one found naturally from the earth, being a by-product of lead and copper processing. Some companies choose to use this mineral because of its pearlizing agent, which gives skin a wonderful "candlelight glow." Others use it because of its "filling" or "bulking" properties. Either way, bismuth oxycholoride can irritate skin, causing it to break out in a rash or itch uncontrollably.

Some mineral makeup brands, for example Bare Minerals, do in fact contain bismuth oxycholoride. Supposedly the amounts are so small that the company can legitimately continue to claim its products are "100% bare minerals", but the use of the lead and copper by-products, not always listed on product labels, certainly can be construed as misleading. In general anyone with extremely sensitive skin should check the product label for this ingredient.

Why is mineral makeup better for the skin?
Pure mineral makeup is believed to be better for all types of skin – especially sensitive skin, skin that is prone to acne, and skin that is typically reacts allergically to cosmetics - because it doesn't contain the oils, waxes, artificial colors, chemicals or preservatives that typically dry out or irritate skin.
Mineral make up is known as "non-comedogenic", meaning it does not clog skin pores, another advantage. And mineral makeup that contains titanium dioxide or zinc oxide has the extra benefit of providing a natural protection from the ultra-violet rays of the sun. These two ingredients also have anti-inflammatory properties, can actually have a calming effect on the skin, and have proven to be particularly effective for those who suffer from skin problems like rosacea or acne.
Many dermatologists even believe that mineral cosmetics are safer for those recovering from chemical peels, laser resurfacing, and plastic surgery. However most would draw the line at calling any makeup "healthy" for the skin or "safe enough to sleep in." While they agree that mineral makeups are healthier than traditional cosmetics, they are quick to point out that no makeup at all is an even better choice.
What kind of makeup is available in mineral form?
The answer to that question depends somewhat upon the cosmetic brand involved. Bare Minerals, the original product line that everyone seeks to emulate, has a wide variety of cosmetics including:
concealers
foundations
veils
blushes (or mineral colors)
eyeshadows
glimmers
eyeliners
mascaras
lipsticks
... and more! The thing I like most about mineral makeup like Bare Minerals is that you can mix the products to create combinations of your own. For example, in the winter, I mix the light mineral foundation together with the medium to create the perfect color for me. In the summer, I can wear the medium foundation just as it comes. Those that worry that the powder foundation won't provide enough coverage, can relax, as it can also be applied with a damp sponge for a more thorough coverage. It really works for just about everyone.
I also like using the same mineral color (or blush) for my cheeks, eyes, and/or lips. I brush on a light amount to bring a soft glow to my cheeks; apply a darker concentration of color on my eyelids for shadow; and dip a lip balm into the same color to bring the perfect amount of color to my lips. The mineral color can also be used wet; when I want a dramatic deep color on my lids, I generally apply it wet, and I sometimes just use it as a (wet) eyeliner to bring more drama to the eyes.
Because you can double up or even triple up the use of your mineral makeup, in the long run you can save considerable money that can be applied toward another beauty purchase.
Who sells mineral makeup?
It seems that virtually every cosmetic company is moving in the mineral makeup direction, and there are a lot of new cosmetic lines being formed around the mineral blend. Here is a list of several companies offering mineral makeup:
Almay Pure Blend Mineral
Bare Escentuals i.d.'s Bare Minerals
Cover Girl Tru-Blend With Minerals
Erth's Pure Minerals
L'Oreal Bare Naturale
Mary Kate & Ashley Olsen's Bare Effects
Neutrogena Mineral Sheers
Physicians Formula Mineral Wear (powder and cream)
Sheer Cover
Some of the cosmetic brands that have just entered into the mineral makeup market are limited to a few products like foundations, concealers, and/or blushes. However, if their mineral line takes off you can bet that they will add more products.
A final word of caution: read the product label for any mineral product you are considering. The awful truth is that many of those promising mineral cosmetics are in no way, shape, or form based on "pure minerals." Many contain some of the very skin irritants that you might be trying to avoid, so make sure you know exactly what you're buying!
Related Articles:
Related articles
A lip plumper that works without drying out or burning your lips
Home video camera beauty tips galore!
A foundation that blends to match your skin tone
Top Stories
Dealing with haircut blunders
Stay fashionable in 2011 without breaking the bank
Walking, aerobics, weights - so much to pick from
Advertisement