Advertisement
Featured article
Novice make-up mistakes to avoid
Foundation, blush or lipstick - what not to do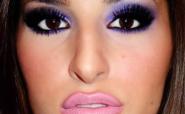 It may be hard to believe, but even women who have been wearing makeup all of their lives often slip up and make a novice mistake. It happens when putting on makeup is rushed, when the right supplies aren't available, and when one is simply not thinking. There are tons of reasons for these mistakes and only one way to avoid them – with knowledge.
Below are some of the most common novice makeup mistakes and how to avoid them altogether:
Foundation that is too light or too dark. Whenever possible, "test" foundation before purchasing it. The best place to do the test is on the cheeks or neck. Always choose the foundation shade that blends best with the natural skin tone; not one that is lighter or darker.
article continued
Advertisement
Unfortunately, sometimes it isn't possible to test foundation before making a purchase. That doesn't mean you have to live with the end result. Rather than discarding the inappropriate color, try mixing it with another foundation shade to make a customized color that will match your skin perfectly.
When customizing is required, be sure do it ahead of time and label the bottle to make it easy to find. Never wait until it's time to apply the foundation before mixing - if you are hurried you will likely do a haphazard job and the end result could be streaky and unattractive.
If you are worried about foundation sinking into fine lines and wrinkles, always take the time to apply a good moisturizer or foundation primer. This will not only help the foundation go on more smoothly, it will plump up your fine lines and wrinkles so that color doesn't absorb too heavily. Additionally, it will help extend the life of your foundation to last throughout the day.
If the applied foundation looks wrong once it is in place, it is usually best to remove it. Do not try to mask it with powder or by applying a lighter or darker shade of foundation over the top. That will only compound the problem, and starting over is usually the best decision. The one exception to this rule might be with mineral foundations that can be further blended to diffuse the color.
Too much blush. There was a time when heavily rouged cheeks were considered beautiful. Unfortunately, that time has long passed. Women today should seek to look as though they aren't wearing blush as all, merely experiencing a natural glow from within.
The first step toward avoiding this problem is choosing the right blush shade. Blush that is too dark or the wrong shade for your skin tone will not look natural. Not every woman can carry off bright orange or red blushes or even tawny beiges and browns, which means testing is just as important for blushes as for foundation. Tests should be done on the cheekbones directly, whenever possible to give the most accurate prediction of the end result. If it isn't possible to test on the cheeks, then try testing the back of the hand.
If testing isn't possible, there are certain colors that will look good on almost any woman. These include light to medium pinks and peaches. Those shades are also less likely to be overdone because they are generally applied in layers to achieve the perfect-looking inner glow.
If you do apply too much blush, it can be blended out with a good blush brush or makeup sponge. Even cotton balls work well on powder and mineral blush products. Just keep blending and removing the excess until the perfect look is achieved; if it is still too dark, add a very light coat of translucent powder over the top to diffuse the color further.
Aging women will want to avoid heavy creams or sticks since their concentrated colors will settle into fine lines and wrinkles. Instead, these women should opt for light powders, minerals or gels.
Heavy lipstick. Too much lipstick can result in colored teeth. Is there a more unattractive makeup look? In this day and age, getting lipstick on your teeth is totally avoidable. Instead of a heavy lipstick or waxy gloss, women can opt for a lip stain or gel. With these, the color adheres to the skin quickly and sinks in so the color stays put. Then, of course, there are all the "color stay" and "nontransferable" lipsticks in today's marketplace. Many of them actually work. Once in place, they stay where they are put until they wear off naturally or the woman removes intentionally removes them.
If you are intent on wearing old-fashioned lipstick, you can still avoid color transfer to the teeth by taking a few simple precautions. My favorite is using a good lip primer, which will help keep the lipstick in place. Sometimes, as an extra precaution I also use a lip sealant over the top. The problem with  sealant is that it can be over drying and make the lips peel and crack.
Another old-fashioned trick is to apply foundation on the lips before applying lipstick. Then apply a light coat of lipstick and blot. Apply a thin layer of translucent powder next, and then a final coat of lipstick. To make sure that the lipstick won't transfer to the teeth do the following. Purse your lips into an "O." Insert your forefinger into the center of the "O" and pull it back out. Any lipstick that would normally transfer to the teeth is now on the finger instead.
These mistakes only begin to scratch the surface of "Novice Makeup Mistakes to Avoid." I hope you will check back in the future for more tips and tricks to keep your makeup always looking fresh and natural.
Related Articles:
Related articles
What is facial primer and why do you need it?
Your forties are a critical time for your skin
A cream that promises an instant facelift
Top Stories
Pick the product to look great and avoid hair damage
How to find and stick to an exercise regime that works for you
Get that suntanned look and a great moisturizer all in one
Advertisement