Advertisement
Featured article
Review: Maybelline Pulse Perfection Vibrating Mascara
A new mascara with a vibrating applicator!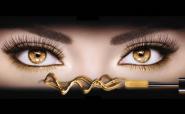 When I first read about the Pulse Perfection Mascara by Maybelline, the world's first vibrating mascara (surely a rare fair marketing claim?), I feared for my retinas. Was this product simply the latest design in an exhausted product sector, relying on its unique gimmick to shift units? Or would it actually result in perfect, enviable 'born with it' looking lashes?
The first thing I noticed was that it was smaller than expected. I had presumed that it would have been packing a Duracell and therefore double in length - perhaps I was just hopeful so that it might have an alternative use if not flattering for my lashes! (OK, compulsory vibrator-related joke done). In fact it looks the same as any mascara, with the battery located neatly in one end, easily operable by gently squeezing the wand tip between your fingers.
The theory behind it is that the horizontal vibration of the wand coats lashes evenly, making them glossy and reaching their full extension potential. So, does it work?
article continued
Advertisement
Once you get over the strange notion of putting a vibrating wand near your eye, the action is really the same as a standard mascara. The head is one of those plastic numbers with short sparse bristles which allows for good separation but not necessarily adding fullness. My lashes appeared well covered with the product and were well defined. Compared to my non made-up lashes the Pulse Perfection Mascara appeared to widen my eye shape and brighten in colour due to the deep black colour of the make up. It also stayed in place all day with no signs of flaking, smudging or a need to add more.
What's not so good about it? I prefer my lashes to look thicker when I use mascara and I don't think this product is really designed to add that width. It does lengthen your lashes, but after a couple of coats they were looking a tad clogged, resulting in a heavy feeling. I also felt as if I wasn't quite in control of the speed of application and ended up with a finishing stroke or two without the vibration.
At £14.99 (RRP) this is roughly 40% more expensive than other mascaras from the Maybelline range - just a few more pounds and you're in Yves Saint Laurent false lash mascara territory. I can't help but feel that you're paying for the short lived novelty factor rather than a well developed make up formula. And I do wonder whether it makes applying mascara on a bus any easier...
Advertisement