Advertisement
Featured article
The low-down on lip products
A survey of different lip product types and advice on how to apply them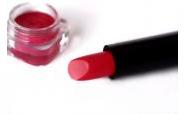 A woman's lips are often one of the first things that people notice about her face, after her eyes of course. For that reason, women are rather obsessive about the look of their lips. Most are in search of those fabulous sensual pouty lips that all models seem to have.
Most beauty critics will tell women that two cosmetics are essential; mascara and lipstick. I agree and I never leave home without either. However, in this day and age, lip products don't always come in stick form. There are lip balms, lip glosses, lip stains, and lipsticks. There are creamy lip products and those that are gel based. There are those that plump lips and those that moisturize. In short, there are dozens of products meant to tease and confuse women in search of the perfect lips.
So which is the right lip product for you? That depends on your individual requirements. Let's look at the options in hopes of discovering exactly what you are searching for.
article continued
Advertisement
Lip products galore
Lip balm provides moisture to the lips. Manufacturers often add vitamins like E, which is excellent for the skin. Some balms, like Blistex, are medicated to help repair dry, chapped, or cracked lips. Still others contain sunscreen in order to minimize sun damage. Balms are generally clear in color or offer the gentlest hint of a color. Some are even flavored (e.g., cherry, bubble gum, grape, etc.)
Lip-gloss can either be translucent or very subtle in color. Once considered only appropriate for young girls, many glosses today are made with adult women in mind. Some shimmer, some sparkle, and some give off a metallic glow. The one thing they seem to have in common is a beautiful, youthful shine.
Lip plumpers generally contain spicy oils or ingredients like menthol that mildly irritate the lips in order to plump them and enhance their natural color. Some products also contain ingredients that help to reduce the look of fine lines and furrows. Some of the newer ones on the market today add hydration as well.
Lip stains, unlike lipsticks, don't just put color on top of the lips. Stains soak a soft wash of color into the lips, which tends to last longer without rubbing off easily. On the down side, however, stains tend to dry easily, so they have to be applied quickly and well, since there won't be time to blend it in.
Lipstick adds color to the lips in a wide variety of choices, which include sheers, shimmers, creams, and matte finishes. Some today are made to last up to eight hours and claim that they "won't kiss off."
Lip products tips and tricks
There are a lot of different tips and tricks to wearing any lip product. Here are some of the most common that I find work well for me:
Prime your lips before adding lip product. There are a number of lip primers on the market today. If you don't want to invest in one, simply use your own foundation as a primer, adding your lip pencil and/or product on top. Another trick that works for me is to apply lipstick and then blot with a tissue before powdering (with translucent powder) and applying a second coat on top.
To make your lip product last longer, line and fill in your lips with a matching (or slightly darker) lip pencil. Add the lipstick on top. Lip pencil or liner also helps prevent lipstick from feathering into the fine lines around the outside of the lips.
For a softer, more subtle look, avoid lip pencils and liners altogether and never use a dark lip liner or pencil with a light lipstick.
For a plumper lip look, apply lip liner just outside the lip line and put the lip product on top. Apply a lighter gloss just in the center of the lips to get that much desired pouty effect.
Women over 45 should use a lip product with lots of moisture, avoiding anything that could further dry out the lips. Lip creams generally work better for these "women of a certain age."
If you don't want your teeth to look yellow, stay away from orange and brown colors in your lip product. Instead choose a color with a blue undertone like a plum, a wine, or a violet.
If your lips are thin, avoid dark colors that will only make them look thinner. Lighter shades, like nudes and pale pinks or peaches, will give an illusion of plumpness.
Few women can pull off a blood-red lip and, even then, only for special occasions.
In any case, don't be afraid to mix colors and layer your lip products until you find something that works well for you. Lipstick should be personalized to suit each person's personality and lifestyle, so experiment and have fun!
Related articles
A guide to choosing the right perfume and wearing it correctly
A concealer that really does soothe those under-eye circles away
A guide to the ingredients in so-called 'mineral makeup'
Top Stories
Beat the sneezing without anti-histamines
Products and tips to product your hair in that summer sun
Don't work that body till you've read these tips
Advertisement