Advertisement
Featured article
Review: Garnier Vital Restore Daily Beauty Serum
A beautiful moisturiser that claims to reduce age spots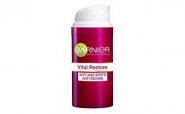 Garnier, the well-known and well-respected beauty brand, have brought out a new product, their Vital Restore Daily Beauty Serum. This contains orchid extract and soy bioproteins and is designed as a daily beauty serum that will 'instantly illuminate and reduce the appearance of age spots'.
The packaging (very attractive, with an orchid motif) quotes a self-assessment study performed on 52 women whose feedback (after an 8 week period) was as follows: 75% reported a reduction in the number of age spots, 87% reported a reduction in age spot intensity, and 83% a reduction in age spot size. All very impressive if true!
This product is specifically for mature skin and is recommended for those of 50 years +, and I was able to give this to a client of mine of the right age group to test. And what did she report back?
article continued
Advertisement
Vital Restore Daily Beauty Serum is quite oily and blends easily into the skin without leaving any grease or sticky feeling. It does indeed instantly illuminate skin as it claims, and gives a luxurious feel to your skin. Because it is a thinner cream you do not need to use large amounts and so the product lasts a lot longer. However over the course of this one week trial there were no visible changes to age spots.
Vital Restore has a lovely smell which is not too overpowering, and is on the whole a beautiful product. It feels and smells lovely and makes skin soft and radiant. My client loved it and will be using it from now on, I think.
Finally, this product is dermatologically tested and well tolerated but Garnier do not go out and out to claim their product is paraben free or 100% natural. Just bear in mind that it does have a very long list of unpronouncable ingredients!
Related Articles:
About the Author
Michelle Birch has been a qualified general nurse for the last 10 years and has applies those skills to making people feel cared for, beautiful and appreciated. Michelle Birch Beauty offers a friendly, relaxed and professional environment using products of the highest quality. Treatments range from spray tans, facials and waxing to aromatherapy, reflexology, Indian head massage and hot stone massage, and wonderful pamper treatments including her beautiful chocolate indulgence range. Michelle Birch Beauty also offers botox and dermal fillers with local GP Dr. Fayyaz Shariff.
Michelle's homepage: Michelle Birch Beauty
Advertisement