Advertisement
Featured article
Review: Garnier Vital Restore Day Cream SPF15
A moisturizer that smells divine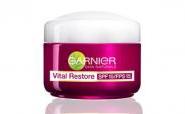 After a weekend of too many toxins I was curious to see what Garniers Vital Restore moisturiser could do for my ravaged skin. It's marketed towards the "mature" woman but I find this to be irrelevant these days since I, like most of my twenty something friends, have been using anti-ageing products for years.
Whats good about it…
This product promises to "rehydrate and reinforce skins structures using orchid extracts to stimulate cell vitality, and soy bioproteins to stimulate the production of collagen and elastin". It is also designed to "protect against the appearance of age spots". Lets be honest; it's very difficult to judge the effectiveness of these claims.
But what I can tell you is that the orchid scent to this cream smells absolutely divine. The packaging is pretty and gives the product an expensive feel although it is reasonably priced at £9.99. The day cream can be complemented with a night cream and an anti-age spots serum.
article continued
Advertisement
The relatively high SPF factor of 15 is something I always look for in a moisturiser as I am fair-skinned, but this will also protect the skin from premature ageing caused by the sun.
What's not so good about it…
They say: "we use, wherever possible, naturally derived active ingredients"
The ingredients say: ethylparaben and methylparaben.
Given that there have been reports claiming that parabens are carcinogens, I'll leave it to the reader to decide where you you stand on this!
Does it work?
Garnier recommends a four week period to really see the results from this product, after one week I can't tell you if my skin feels firmer but I can tell you that Vital Restore keeps my skin feeling moisturised throughout the day. It penetrates my skin easily leaving a non-greasy but hydrated base for my make-up.
I don't believe in miracle creams but I do believe that every little bit helps. As this cream keeps your skin nourished and hydrated in turn your skin will appear fresher and younger than if you didn't use it at all.
Related Articles:
About the Author
Jennifer Heath studied at the London College of Fashion and now works at online fashion retailer ASOS.
Jennifer's homepage: Love Getting Dressed blog
Advertisement