Advertisement
Featured article
Review: L'Oreal Bare Naturale Mineral Mascara
A review of a mascara for women who want the natural look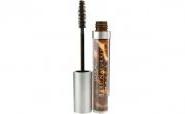 L'Oreal's Bare Naturale Mineral Mascara is perfect for the woman who wants her eyelashes to look natural rather than made up. The mineral-enriched formula is weightless. It nourishes the lashes to make them stronger each time it is applied. With 86% of the product made from natural ingredients like aloe, vitamin E, and jojoba oil, the mascara conditions while it infuses beautiful color.
It's not only the mascara that is different in Bare Naturale Mineral Mascara. The delivery system is equally impressive with one of the softest, yet most effective delivery systems on the market today. The luxurious, soft bristle brush applies the product perfectly without damaging the lashes, making every application easy and effortless. It goes on to stay on until the wearer is ready to remove it with simple soap and water. Yet it will not smudge, budge, or wash away in the rain.
L'Oreal's Bare Naturale Mineral Mascara is fiber-free, leaving behind none of the flakes or clumps that are common with a lot of other mascara products on the market. It is ophthalmologist and allergy tested as well as hypoallergenic and fragrance free. It is safe for use by those who wear contacts as well as those with sensitive eyes.
article continued
Advertisement
The mascara comes in a beautiful tube that looks like two colors swirled together. It comes in black brown, black, and very black. L'Oreal Bare Naturale Mineral Mascara can be found wherever L'Oreal products are sold, which means most drug and discount department stores as well as beauty outlets. It can also be purchased online through a variety of sources. It retails for around US$8.99.
Verdict
I like this product for daytime wear, when I want a bit of punch but not too much drama.
Advertisement