Advertisement
Featured news story
Anti-aging creams do work, say scientists
Retinol-rich anti-wrinkle creams really can rejuvenate skin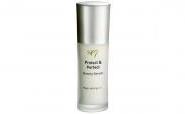 It's official, some beauty products really can reverse the signs of ageing - and on hearing the news Britain's shoppers cleaned the shelves of retinol-rich skin creams in record time.
The public were reacting to two separate pieces of scientific research, both of which suggested that certain skin creams - or skin cream ingredients - can rejuvenate skin and reduce wrinkles.
The first of these was the BBC's Horizon programme "Prof Regan's Beauty Parlour" this March, where respected medical expert Professor Lesley Regan took a look at the world of cosmetics.
article continued
Advertisement
As part of the programme dermatologist Chris Griffiths of Manchester University was asked to look at over-the-counter anti-ageing creams, and to his own surprise the Professor's research ended up endorsing a well-known Boots brand:
"At both basic science and clinical levels Boots No7 Protect & Perfect has been shown scientifically to repair photo-aged skin and improve the fine wrinkles associated with photo-ageing."
This scientific endorsement led to chaos as shoppers besieged Boots stores. At one point earlier this month Boots beauty director Ian Filby said some stores had waiting lists of up to 700 names for the cream, and the company has had to both ration sales and increase production, up from 10,000 to 24,000 bottles a day The second bit of research became public in May, when the American scientific journal Archives of Dermatology published research undertaken at the University of Michigan Medical School.
The Michigan researchers tested a lotion containing 0.4 percent retinol on the arms of the test subjects, and found that wrinkles, roughness and overall aging severity were all significantly reduced in the treated arm. In other words, retinol and pro-retinol can make your skin look younger. As Boots No 7 Protect & Perfect contains a pro-retinol complex, this news only added to the demand here in the UK.
As ever, nothing is black-and-white in the world of medical research. The Michigan subjects were elderly volunteers with an average age of 87, and lotion was tested on their arms, not their faces. Retinol itself is not without its dangers; it can cause redness and irritation, can make the skin sensitive to sunlight, and in pregnant women, excess vitamin A is associated with birth defects.
However none of this seems to have made much difference to Britain's shoppers in their quest for the Fountain of Youth.
Related articles
Look after your skin and it will look after you
Melanoma: the deadliest form of skin cancer, but preventable
Navigate through the makeup brush maze
Top Stories
A time of hippies and Twiggy, bell-bottoms and mini-skirts
Tips on how best to apply and remove artificial nails
A review of Patrick Holford's book of health tips
Advertisement