Advertisement
Featured article
Protect your skin against melanoma
Melanoma: the deadliest form of skin cancer, but preventable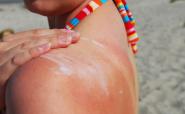 Melanoma is an extremely serious type of skin cancer that, although it doesn't affect as many people as other forms of skin cancer, in fact causes the most deaths. You are at risk of melanoma just about any time when you are without adequate sun protection.
Occurrence of Melanoma
As the name suggests, melanoma occurs in the melanocytes cells. Melanocytes contain a substance called melanin that are responsible for skin pigmentation (skin color) and also help protect the skin against the UV rays of the sun. When you go out in the sun, the melanocytes produce more melanin for protection and thus the skin gets tanned. Melanocytes sometime mutate faster than other normal skin cells; as a result, they accumulate together and form tumors. Malignant tumors can also affect the healthy tissues and further give rise to new tumors in the body.
Risk of Melanoma
Though just about everyone is at risk of melanoma, there are some factors that can increase ones risk factors like:
article continued
Advertisement
Fair skin because of lesser amounts of melanin
Weak immune systems
Family history of melanoma
Excessive sunburns
Protection against Melanoma
Since the primary cause of risk of Melanoma is prolonged and unprotected sun exposure, the only way to limit is by taking adequate sun protection. Here are some tips that will help you protect your skin against skin cancer and other forms of sun damage.
Avoid Tanning
The bronze look may look really good but it puts your skin at risk for cancer. Avoid tanning outdoors as well as indoors with tanning beds. Any kind of sun exposure is damaging for the skin and there is no way to tan 'safely'. If you want a tanned look, use make up and cosmetics instead of risking your life.
Use Sunscreens
There is never an excuse to not wear sunscreens. Make sure you slather on sunscreens all over the exposed parts of your body before you venture out in the sun. One of the most common mistakes women make is not applying enough sunscreen - applying less than what is required doesn't give you the full SPF. Take at least an ounce of sunscreen on your palm and apply it liberally all over your body. Apply sunscreens at least 20 to 30 minute before you venture out. Make sure you reapply after every 2 hours in order to ensure continued protection. Select a sunscreen with at least an SPF 15. Look for ingredients like titanium dioxide, zinc oxide, and avobenzone, which provide broad spectrum protection against the UVA and UVB rays of the sun and prevent sun damage. It will also help prevent premature aging!
Avoid Sun Exposure
The sun rays are the strongest between 10 a.m. and 4 p.m. Therefore, avoid venturing out during this time of the day. Also wear sunglasses and a wide brimmed hat. And whenever you can, try to remain in the shade.
Product Suggestions
La Roche Posay Anthelios SX – This is a non-greasy sunscreen that also has moisturizing benefits. Anthelios SX offers broad spectrum UVA/UVB protection against sunlight and protects against sunburns. It contains Mexoryl SX, a substance that is photostable against UVA rays so it does not breakdown and lasts longer than most sunscreens. It is also the first sunscreen approved by the FDA! Moreover it is free of all fragrances, PABA free, and does not make the skin pasty! It moisturizes for 24 hours as well.
Nia 24 Sun Damage Prevention SPF 30 – It is a sunscreen lotion that has a dual action mechanism. It prevents sun damage and also is a 100% mineral sunscreen. It is weightless, oil free and absorbs almost instantly. It is even suitable for sensitive skin types. It contains Pro-Niacin that is continuously delivered to deep layers and helps strengthen the skin barrier. It also improves the skin texture, heals pigmentation and tones the skin..
iS Clinical SPF 25 Treatment Sunscreen – It is a sunscreen that provides broad-spectrum UVA/UVB protection. It helps repair solar damage by reducing redness and the inflammation associated with sunburn. Microfine zinc oxide and microencapsulated organic sunscreens are combined with powerful antioxidant botanicals centella, astiatica, olive leaf extract, and pure vitamin E to help protect and heal the skin.
About the Author
Dr. Marilynn Syrett graduated from Western University of Health Sciences, College of Osteopathic Medicine Of The Pacific, in 1998 and has since nurtured an ardent interest in skin care products. She has reviewed many skin care products from Obagi and iS Clinical line.
Related articles
Look great without the expense and risk of surgery
A guide to which products do what they say
A guide to the ingredients in so-called 'mineral makeup'
Top Stories
More budget-beating home-made beauty ideas
Not all aromatherapy oils or fragranced candles are the real deal
Pick the product to look great and avoid hair damage
Advertisement