Advertisement
Featured article
What's in your mineral makeup
A guide to the ingredients in so-called 'mineral makeup'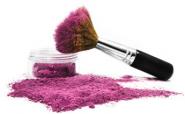 As mineral makeup becomes more popular it seems that every cosmetic company is launching their own version. This article will help you recognize the ingredient differences between standard mineral makeup and mainstream brands of mineral makeup.
Unfortunately, there is no regulation as to how the term "mineral makeup" is used, and therefore any company can use it as a label for nearly any product. Traditional mineral makeup is made from only a few ingredients, which are all typically found in traditional makeup too; natural sunscreens, pigments, shimmer and oil absorbers. Over the years many traditional makeup companies have added to these very simple formulas to produce the products we see on shelves today.
What About Additives?
Preservatives are added to give cosmetics a longer shelf life so if they don't sell right away they can sit on the shelf and stay fresh much longer. The company saves money on throwing out bad products by doing this.
article continued
Advertisement
Colors are made from petroleum by-products, also known as FD&C dyes, because the colors are much more vibrant and varied than natural pigments. FD&C dyes are where the bright yellows, oranges, reds, pinks, purples, blues and greens come from.
Silicones and waxes are added to make cosmetics glide more easily onto the skin. These ingredients allow the makeup to basically sit on top of your skin, instead of bonding with it, which also means it can be prone to smearing, wearing off and transferring to other people and clothing.
Fillers like talc, silica and cornstarch are added, which are fairly inexpensive but leave the makeup feeling very smooth and silky. It gives the luxury feeling of silk powder without the expense. Fillers also dilute the color intensity of the cosmetics and make many more jars of makeup for the same price than using higher end ingredients. This can be a reason why some women feel like they have to put three or four layers of foundation, eyeshadow or blush on before it becomes visible.
As you get into liquid and cream makeup there are added oils, alcohols, stabilizers and more preservatives. There are also fragrances, botanicals and emulsifiers.
Basic Mineral Makeup Ingredients
The following are the basic ingredients of mineral makeup:
Titanium Dioxide: Natural oil absorber and sunscreen as well as a carrier for pigments and mica. It also gives foundation a heavier coverage.
Mica: Nature's "glitter", adding the shimmer, pearl or shine to cosmetics. There is also a non-shimmery version called serecite, which helps mineral makeup glide on more smoothly and still helps refract light and camouflage fine lines and skin discolorations.
Zinc Oxide: Natural heavy-duty sunscreen.
China Clay: Typically the white clay, kaolin, is used because it is the mildest and gentlest on any skin type, but you may find green or rose clays as well. They are fantastic oil absorbers that don't dry skin out.
Iron Oxide/Ultramarines: These are naturally occurring pigments and provide the strong color that mineral makeup typically has.
You may also find mineral makeup that contains:
Silk or Pearl Powder: Nature's little luxuries. These products are thought to help heal and rejuvenate skin, while giving your makeup the feeling of pure silk.
Magnesium Stearate: This ingredient helps makeup adhere to the skin so it stays on longer and doesn't fade.
Boron Nitride: This ingredient also helps makeup apply and bind to your skin more easily.
Bismuth Oxychloride: Gives a more shimmery effect than mica and is also used to improve the "slip" of makeup.
These ingredients are about all you will find in traditional mineral makeup! There is no need for preservatives because minerals cannot support bacteria, so shelf life is not limited. They are designed to minimize irritation and acne flares, so do not include pore-clogging waxes, silicones or oils. Many people find fragrance unappealing or are allergic to it, so mineral makeup companies generally avoid it. Standard mineral makeup is powder, not liquid or cream, so it doesn't need stabilizers and emulsifiers to keep the liquids from separating.
This means that mineral makeup is very simple and very good for any skin type. Here's an example of what a good mineral makeup and its ingredients:
Sheer Aqua Loose Mineral Foundation: Titanium Dioxide, Mica, Yellow Iron Oxide, Red Iron Oxide, Ultramarine Blue, Black Iron Oxide (reference: www.sheeraqua.com)
You can see how few ingredients there are. Compare an ingredients list like this to other brands of mineral makeup and you'll get an idea of what to look for. Sheer Aqua is also one of the only pure mineral lines that I have found that formulate their products to complement the skin of women of color.
What about those mainstream brands?
Now that even the mainstream cosmetics companies have started producing "mineral makeup", it's even more important to read the labels. Here are the ingredients in some of those products:
Revlon Colorstay Loose Mineral Foundation: Talc , Silica , Nylon-12 , Polymethyl Methacrylate , Trimethylsiloxysilicate , Dimethicone , Cyclopentasiloxane , Perfluorononyl Octyldodecyl Glycol , Grapeseedate , Polyethylene , Mother of Pearl , Topaz , Quartz , Silk - Serica , Cymbidium Grandiflorum Flower Extract , Lactobacillus/Eriodictyon Californium Ferment Extr , Lilium Candidum Bulb Extract , Mallow Extract - Malva Sylvestris , Dimethiconol , Dimethicone/Silsesquioxane Copolymer , Triethoxycaprylylsilane , Lecithin , Alumina , Lauroyl Lysine , Phenoxyethanol , Methylparaben , Ethylparaben , Propylparaben , Mica , Titanium Dioxide - CI 77891 , Iron Oxides - CI 77491 - 77492 - 77499 , Bismuth Oxychloride - CI 77163
Maybelline Mineral Power Loose Foundation: Zinc oxide (natural sun block), polythethylene, boron nitride, dimethicone, PTFE synthetic wax, acrylates, copolymer, lauroyl, lysine, cetyl dimethicone, aloe barbadensis, aloe, trimethylsiloxysilicate, triisocetlyl acetate, panthenol, chamomilla recutita extract, martricaria flower extract, Possibility of Mica/Titanium Dioxide
Maybelline Liquid Mineral Foundation: zinc oxide, polyethylene, boron nitride, dimethicone, PTFE, synthetic wax, acrylates copolymer, lauroyl lysine, cetyl dimethicone, alow barbadensis/aloe barbadensis leaf juice, trimethylsiloxysilicate, trisocetyl citrate, isopropyl titanium trisostearate, tocopheryl acetate, panthenol, chamomilla recutta extract/matricaria flower extract. May contain: mica, CI77891/Titanium dioxide, CI77491/Iron oxides, CI77007/ultramarines
L'Oreal Bare Naturale Powdered Mineral Foundation: Boron Nitride , Kaolin , Isononyl Isononanoate , Carnauba Wax - Copernica Cerifera , Calcium Gluconate , Manganese Gluconate , Magnesium Gluconate , Copper PCA , Aloe Barbadensis Leaf Juice , Tocopherol , Panthenol. May Contain: Titanium Dioxide, Bismuth Oxychloride, Mica, Iron Oxides
It's easy to see the differences now. Pure mineral makeup typically has fewer than ten ingredients, while there are many more in the mainstream companies' "mineral makeup". By adding in tons of other ingredients, it's no longer mineral makeup, it's just powdered makeup - no better for your skin, no less potentially irritating and no closer to improving your skin than any other foundation you pull off the shelf.
The biggest benefit of traditional mineral makeup is that you know exactly what you're putting on your skin, you can easily find out what each of those ingredients is used for, and by having that knowledge you can better choose products that will meet your needs and requirements.
Related Articles:
About the Author
Lynn is an expert beauty consultant and specializes in pure mineral cosmetics and skincare formulation. She is the owner of Beauty Bliss Cosmetics and a senior beauty adviser for Sheer Aqua - an upscale completely pure line that launches in China this year and in the US in 2010.
Related articles
Get extra value from your makeup with these tips
Eyelash loss - how to stop it and how to heal the damage
A guide to choosing and using the right mascara
Top Stories
Why you should avoid cosmetics overload
Seven things you should do to keep the weight off!
A time of glamor and blonde bombshells
Advertisement