Advertisement
Featured article
Review: Revlon ColorStay Overtime LipColor
For beautiful-looking lips you'll find the ColorStay Overtime LipColor hard to beat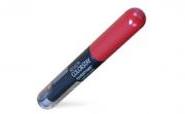 Revlon's ColorStay Overtime LipColor lipstick claims to be a long lasting lip product. It comes in a slender, double-ended mascara like tube that contains both a lip color and a gloss. The product comes in a wide variety of colors ranging from pale pinks to deep wines.
The product is packaged in a clear, lightweight flexible plastic box. The advantage of this is that it allows you to see, up front, the color you are purchasing. I appreciated this attention to detail since so many lip products come in pre-sealed tubes that don't allow you to see the actual color of the product.
The tube itself is small at about 4 ½" in length and less than ½" in diameter, so it fits easily into any handbag and even into some wallets, and will also slide easily into most pockets. One end of the wand houses the lip color while the other houses the clear lip shine. Both mechanisms are very secure and the product doesn't appear to leak at all.
article continued
Advertisement
Instructions indicate that you apply the ColorStay Overtime LipColor and then wait three minutes before applying the shine gloss on top. I timed this myself and found that at least three minutes is required. In humid weather, however, I advise waiting an extra minute or two.
The lip color is creamy and glides on smoothly and easily with the rubber wand applicator. It isn't at all messy and doesn't feather easily outside the lips. It is lightweight and feels good on the lips. The gloss, which applies with a brush, appears to be moisture rich and also feels good upon application, leaving behind a wonderful glossy shine.
Even after multiple applications, I didn't find the ColorStay Overtime LipColor to be drying to the sensitive skin of the lips like so many other "long-lasting" products tend to be.
Claims that it "won't kiss off" are slightly overstated. Although it doesn't come off easily on your teeth or even on the side of your glass, my husband was able to kiss it off in pretty short order; leaving nothing more than a hint of color behind.
Revlon's ColorStay Overtime Lipcolor lipstick is sold in most drug stores and discount department stores, other stores that sell Revlon products, and of course online.
Advertisement