Advertisement
Featured article
Review: Revlon Grow Luscious Mascara
A mascara that claims to grow your lashes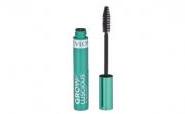 Revlon is usually a good name when it comes to beauty products. They seldom lead their customers astray, but unfortunately it appears they have done just that with their newest mascara in the Fabulash line, Grow Luscious.
Grow Luscious comes in four colors - blackened brown, black, blackest black and black shimmer. I chose the blackest black for my wimpy, short and fine lashes, because it is what I routinely use.
I must say that I'm confused over three shades of black. Black is black in my book, so I'm not really sure if blackest black is really that different from plain old black. Black shimmer, on the other hand, is different because it adds a touch of glimmer to the lashes for beautiful nighttime reflection.
article continued
Advertisement
The mascara went on smoothly. I particularly like the large, bushy applicator brush. It makes it easy to get to every lash for maximum coverage and color enhancement. I found Grow Luscious to be a good mascara on its own, but would it make my lashes grow?
According to Revlon, Grow Luscious mascara contains a unique formula that is made to work the natural growth cycle of lashes. I found the concept intriguing but wondered if everyone's lashes actually grow in the same cycle; a local makeup expert assured me they did not.
Revlon also claims that Grow Luscious will improve the overall appearance and condition of the lashes with each use. I have been using it for over a month now and don't note any discernible difference; perhaps it takes longer than that for an obvious change to be noted.
Finally, Revlon claims that Grow Luscious will make lashes look longer and lusher, while growing every day. I can confirm the first part but not the second. Thanks to the mascara's outstanding brush, it is virtually impossible not to get a good coat of mascara on all of your lashes, so they will automatically look more dramatic. Additionally, the brush does a good job of extending lash length, making them look much longer even after one use, so that claim is a valid one. As for making eyelashes grow. I haven't seen any evidence of that so far.
It should be noted that Grow Luscious mascara is Ophthalmologist tested and is safe for even the most sensitive eyes. That's important for me because my eyes tend to water excessively if the formulation of the mascara is too strong.
While the verdict is still out on Grow Luscious ability to improve the look of lashes and make them grow noticeably, there is no denying it is a good mascara. Used on its own, without all the hype, I would still purchase it again; especially at its reasonable $7.99 price tag.
Advertisement