Advertisement
Featured article
Makeup for mature women
Products and principles to make older skin look great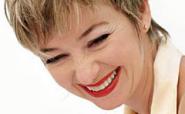 When it comes to cosmetics, not all manufacturers take mature women into consideration in building their product lines. Most products are aimed at the youth market, women between the ages of 18 and 40, and many of these products do nothing for the appearance of older women's skin, or can even cause further damage.
Cakes and heavy creams, for example, settle into fine lines and wrinkles, making a woman look years older. Powders and shimmers accent wrinkles, highlighting them instead of making them disappear. Some foundations include ingredients that are too harsh for aging skin.
The good news is that there are cosmetic lines that are suitable for the older generation. They add skincare ingredients to their products that help plump the skin; provide SPF protection against the sun; even out the blotchiness that often comes with age; infuse moisture deep into the skin to return what nature removes. They even reflect light, to ensure a more youthful glow.
article continued
Advertisement
So, which makeup lines work best for mature women? There are more than a few good products to choose from. Below are listed some of the best I've found so far:
Bare Minerals
Bare Minerals products, from Bare Escentuals, don't contain a lot of chemicals or preservatives, and so they retain a purity that most cosmetics do not. Additionally, the micro-fine minerals glide over the skin without settling deep into pores, fine lines or wrinkles. They don't add color - they just perfect what Mother Nature already provided by removing redness, splotches and blemishes, evening out skin tone without changing it.
With Bare Minerals, a woman controls how much or how little foundation she applies. Put on dry, the minerals allow the natural skin to show through. Applied wet, they provide more coverage without covering a woman's natural beauty.
While Bare Minerals aren't cheap, they do last a long time. One .28 oz. pot retails for around $26 but will easily last several months.
Bare Minerals come in a wide range of shades fair for porcelain skin to deep warm for very dark skin; all in all, there are 20 shades to choose from.
L'Oreal Visible Lift Smooth Absolute Instant Age Reversing Foundation
The name is a mouthful, but the product works. Some claim as many as 10 years disappear as a result of using this anti-aging foundation. The product's hydra-collagen complex "reduces the look of aging while adding moisture and plumpness to the skin". The end result is smooth, flawless skin that looks and feels younger.
The foundation glides on evenly and lightly, smoothing out and filling in pores, lines and wrinkles. It provides seamless, perfect coverage without leaving streaks or splotches behind. More than 90% of the women using this makeup agree they experienced instant smooth skin.
Visible Lift comes in eight shades suitable for most Caucasian and olive-skin tones. They vary from classic ivory to sun beige. The cost for 1 oz. is around $15.
Maybelline Instant Age Rewind
This makeup provides an innovative formula with an inventive application system. The makeup contains Goji berry and collagen to improve the skin's elasticity while also tightening it for a more youthful appearance. It also provides SPF protection from the sun's rays. Delivered in a clever application system, the foundation corrects small flaws as it covers blemishes and splotches by evening out skin tone. The dispenser also contains anti-microbial protection to prevent transfer germs from the makeup to the skin and vice versa. Continued use also reduces blotchiness while evening out skin tone.
Instant Age Rewind comes in 12 shades that range from ivory to dark tan. The cost is phenomenal at between $7.99 and $12.99 per 1 oz. bottle.
Peter Thomas Un-wrinkle Foundation
This foundation is made especially for aging skin. It offers long-wearing coverage, with sun protection and skincare ingredients built into the makeup. Un-wrinkle contains collagen boosting ingredients that help repair damaged skin and give it an overall youthful appearance, and does not contain harsh ingredients like dyes, fragrances, preservatives or sulfates. It also offers light diffusers that draw the eye in where it belongs and away from blemishes and flaws. Finally, it reduces the amount of oil put into the skin to keep it looking fresh and young.
The down side is that Un-wrinkle only comes in four shades – light, medium, tan and deep. The good news is that these shades blend in well with natural skin tone to provide coverage without adding excess color. The cost varies from place to place. It can be ordered by catalog at as low as $30 or purchased in cosmetic boutiques for around $45 for 1 fl. oz.
Smashbox High Definition Healthy FX Foundation
This Smashbox product is perfect for aging skin because it provides all the right skincare ingredients to make any complexion look like sheer perfection. A time-released moisturizer within the makeup makes certain that skin stays dewy soft from morning until night. Skin firming ingredients make skin appear tight and youthful. Nutrients feed the skin while Vitamin C helps fight free-radicals. Ribose regenerates damaged skin cells and helps create new ones. UVA and UVB protection keeps the sun's damaging rays at bay. Finally, FX Foundation does away with extra oils that can make aging skin look greasy and unattractive.
This makeup comes in an easy to use pump container that allows a woman to use as much or as little as she wants, while keeping cross-contaminants from entering. It comes in 13 shades, which provides one for just about any skin color. They range from the fairest of fair to the deepest dark.
The cost is moderate at $38 per 1 oz. pump.
Do's and Don'ts for mature skin

There are some obvious do's and don'ts when it comes to picking out makeup for mature skin.
Use a makeup primer. Mature skin tends to be blotchy and uneven. That's always a dead giveaway of age. However, today's makeup primers help to even out the skin, providing a perfect canvas for makeup application.
Go for coverage but don't create a mask. A lot of full-coverage makeups today can cover imperfections without creating an unnatural-looking mask. Foundation that is too heavy will make skin look much older than it really is. Instead, look for foundations that cover flaws but still allow the natural skin color to show through.
Dump the powder, as powder always settles into fine lines and wrinkles. Women who really insist on using powder should switch to a dry, mineral-based makeup instead. However, be sure the mineral makeup doesn't contain too much mica, which can reflect light poorly and make skin look older instead of young.
Let go of glimmers and shimmers. Glimmers, shimmers and many bronzers can actually add years to a woman's skin. Instead look for soft, light-reflecting products.
Choose light-reflecting makeup carefully. A mature woman should never go completely flat with cosmetics. She should look for products that reflect light away from her blemishes and flaws. But finding the right product can be tricky, so look for something with a natural, dewy softness, the kind younger skin exudes naturally.
Moisturize, moisturize, moisturize. From primer to foundation to eye shadow and lip gloss, each product should offer extra moisture to make skin look younger.
Use blush stains, tints or creams. Powder and cake blushes are not meant for older skin.
Highlight the brow bone. That will open up the eyes and make them appear larger. Nude peach or pink highlighter works well. Also use highlighter inside the lower lid to add sparkle to the eyes.
Accent lips with liner. Aging lips thin out and look dried out. Lip liner helps them stand out. Also add lip gloss to make lips appear poutier.
Don't overuse mascara. Mature women shouldn't add mascara to their lower lashes. That's a trick for the young alone.
Related articles
The best ways to beat acne and achieve healthy looking skin
Navigate through the makeup brush maze
Sun is essential to fight Vitamin D deficiency
Top Stories
Help your skin recover from exposure to sun and sea
How breathing properly can make you feel better
Find jeans with the fit you really want
Advertisement