Advertisement
Featured article
Organic, natural and botanical products
What's in these products and what they can do for you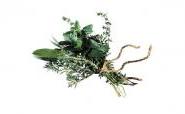 Research tells us that the average woman will absorb 2kg of chemicals from products applied to the skin every year. Whether you choose to take notice of this fact, it is true that there is ever increasing concern over what we put on our face and bodies. If our skin 'swallows' 60% of the ingredients in creams, we are right to wonder whether all those ingredients are good for us.
Just as people might care what goes inside their bodies and steer towards organic food, the same has been happening with organic skincare, except that here the legislation is not as strict as with food.
A product that is certified organic must contain 95% minimum organic ingredients. A product which is certified to contain organic ingredients needs to have at least 70% of these ingredients organic, ie it must be free from herbicides and pesticides during cultivation. However, outside of certification is where we find grey areas appearing.
article continued
Advertisement
Some products which claim to be organic may contain only 1% ingredients which are organic. Or they may contain parabens (synthetic preservatives), petrochemicals and GM ingredients. Then again there are some products which do meet the level of 70% organic ingredients, but are not certified either because the company doesn't want to, or because of the cost and bureaucracy of applying for certification. Regulatory bodies cannot certify some ingredients as they cannot verify the process undertaken to reach their end status. This includes water, glycerine and wild plants.
For example, in a body lotion which is organic but includes mainly water, the glycerine may not reach the 70% organic ingredient level to apply for certification. In the area of aromatherapy, many of the essential oils I use are only available to me as non-organic but it does not mean to say that they are not pure. Most of the medical graded aromatherapy distributors will use suppliers they can trust, who carefully cultivate with as little or no use of pesticides as far as possible.
Whether organic skincare will work for you depends on your skin type and your expectations. A truly organic cream will not allow for technologically advanced ingredients. For example, if you seriously want anti-ageing, you will probably not find the same performance from an organic cream as from a scientific based cream. This will vary from person to person and, just as with non-organic skincare, you need to find the product that will work.
An alternative to organic and still 'green' are natural, botanical or aromatherapy products. The term natural is a difficult one to define, since some products such as petrochemicals are derived from nature but are chemically altered. A truly natural product will contain ingredients produced in nature and beneficial to the skin. Natural ranges of longstanding reputation are Dr. Hauschka and Weleda. Herbal and botanical products are based on ingredients from herbs and plants.
Truly natural, botanical and aromatherapy products, will - like organic products - avoid certain ingredients. These include SLS (sodium lauryl sulphate), SLES (sodium laureth sulphate), aluminium, formaldehyde, diazolidinyl urea and parabens:
SLS and SLES are surfactants, that is they foam up when wet and are commonly found in shampoos, cleansers and shower gels. In fact, it is very hard to find these products without seeing at least SLS or SLES as an ingredient. Unfortunately they can cause irritation and dryness to the skin.
Diazolidinyl urea is a preservative which may cause a number of reactions including joint ache and headaches.
Formaldehyde is a preservative which is banned in Japan and Sweden.
Parabens include a raft of preservatives which all end in –paraben (e.g. methylparaben). A little bit of –paraben is not harmful to us, but unfortunately they are in abundance in so many products which require very long shelf lives may have a lot of them.
I've flitted in and out of the organic market over the years, sometimes elated, other times disappointed. The results are so varying. I recently used an organic shampoo which contained no SLS or SLES but somehow managed to leave my hair feeling like strands of straw, so it was back to the plants for me.
If you veer towards the organic, natural, botanical or aromatherapy lines, don't just stop at skincare. Think also of hair, baby and body products because ingredients in these will also be absorbed by our skin. At the end of the day, it's what fits in with your ethos, your purse and your well-being.
About the Author
Doreen has had a passion for massage since she was 15 years old. She still has that passion, and offers massage, specialist facials and other beauty treatments in her home-based salon in Surrey. With any energy left over she will devour all the beauty pages of all the magazines she can lay her hands on!
Doreen's homepage: Bellessence
Related articles
Look after your skin and it will look after you
A review of Patrick Holford's book of health tips
A review of home gym gizmos
Top Stories
Flatten those waves for the look you want
Fine or thick hair, straight or frizzy, there's a hair-styling product for you
A quick survey of acne treatments
Advertisement