Advertisement
Featured article
Vitamin supplements - your secret beauty product
How extra vitamins can make for beautiful skin and hair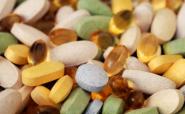 Every woman has beauty problems, but not everyone has the money for what can be very expensive solutions sold on the high street. But with a little basic knowledge many of those problems can be eliminated or at least diminished. In this article we'll look at how vitamin supplements can sometimes be that cost-effective solution.
Vitamin supplements for hair problems
Damaged hair is usually hair that's deprived of the important vitamins it needs in order to look healthy, shiny and strong. The damage can come from over-processing the hair with color treatments or permanents. It can also stem from the use of too many heat-based products. The environment in which a woman lives can be another contributing factor - even the act of shampooing can lead to hair damage.
There are, however, vitamin supplements that can be added back into the hair through shampoos, conditioners, beauty treatments, pills and food. If they are used properly, hair can return to normal or, at the very least, look better than it did after the damage occurred.
article continued
Advertisement
Beta-carotene is important to hair because it converts into Vitamin A once absorbed. Vitamin A helps repair hair damage as well as encouraging hair growth. This supplement is usually contained in multi-vitamin pills, and carrots are also a great food source for beta-carotene.
Omega 3 fatty acids can help hair grow faster, increasing its strength, and make hair look shiny, healthy and more youthful. Omega 3 fatty acids can be obtained from certain types of fish, like salmon. It can also be obtained from certain seeds like flax or chia.
Vitamin B, and the water-soluble vitamin B complex known as biotin, can improve hair health. Biotin puts back protein lost from various factors, including the simple act of aging, infusing it directly into the hair shaft, providing the shaft with support, making hair act stronger and more resilient. Vitamin B supplements are available in pill form or can be acquired from foods like meat, eggs and leafy green vegetables.
Vitamin C results in healthy looking hair. It gives it texture and shine. Vitamin C is found in tablet form, but it can also be obtained from citrus and other fruits as well as from leafy green vegetables.
Vitamin E improves skin circulation. For hair this means the scalp. Many believe that increased circulation leads to quicker hair growth as well as healthier looking hair, which is rich in natural oils.
Vitamin supplements for skin problems
Skin helps protect the body from infection, which is why it is important to avoid or minimize skin problems ranging from the small, like an occasional zit, to something more serious like acne. Contrary to popular belief, however, skin problems aren't just found in the very young. Women of all ages can have them. Even skin that is relatively healthy can benefit from vitamin supplements, which help a woman maintain an eternally youthful appearance.
Vitamin A is crucial for young looking skin. It helps retain moisture which, in turn, helps decrease those pesky fine lines and even larger wrinkles. Additionally, Vitamin A improves skin elasticity, which is needed to maintain a long-term youthful appearance. The vitamin is available in a lot of today's skin creams and beauty treatments.
Vitamin B (biotin) replaces skin protein, which can be lost naturally over time or because of health or environmental issues. Unlike with Vitamin A, Vitamin B can be obtained from foods like bananas and grains such as oatmeal.
Vitamin C is critical for collagen production. That means, as the body ages, it is more likely to need additional boosts of this vitamin. Vitamin C insures smooth, silky skin while protecting against environment problems like sunburn. Getting enough Vitamin C is easy too. It can be taken in pill form or obtained from fruits like kiwi and strawberries as well as leafy green vegetables.
Vitamin E undoes the signs of environmental exposure. However, in this instance, Vitamin E works best if it is used in conjunction with Vitamin C. A lot of today's lotions and skin care products contain both vitamins. They provide the best method of absorption to help skin.
Vitamin K erases the look of dark circles. That's because the vitamin can be absorbed directly into the skin's capillaries, which cause those circles. According to some, Vitamin K is also helpful in reducing brown (or age) spots as well as bruises. Like some other vitamins, this one is best absorbed through skin care products and creams.
Related articles
How breathing properly can make you feel better
Beat under-eye circles with the concealer that's right for you
The different types of cholesterol, and how to reduce the bad kinds in your diet
Top Stories
Seven things you should do to keep the weight off!
A time of glamor and blonde bombshells
Messy mascara and other cosmetics catastrophies
Advertisement