Advertisement
Featured article
Review: Jergens Naturals Ultra Hydrating Body Moisturiser
A non-greasy moisturiser with a long-lasting perfume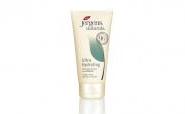 Jergens® is Americas top selling bodycare brand and it is coming to the UK*. Will we be embracing it with open arms or shipping it back to the good old US of A?
What's good about it…
It is cruelty free and paraben free - parabens are chemicals widely used in the cosmetics industry as a preservative that have been controversially but not conclusively linked to cancer. It is also produced in the UK despite it being an American brand, and relatively green from the carbon miles angle.
Jergens Naturals Ultra Hydrating Body Moisturizer uses natural ingredients such as jojoba oil, avocado and olive oil, which all have properties that moisturise and nourish your skin with vitamins and minerals. These help to give the moisturiser a lovely fresh scent.
article continued
Advertisement
What's not so good about it…
This product markets itself on its use of natural ingredients both with the brand name, Jergens® Naturals and their tagline "created with the knowledge that your skin is natural and your moisturiser should be too".
On the packaging it says "made from 96% ultra moisturing natural ingredients", which of course does make you wonder what the other 4% are, and sends me off to peruse the ingredients. Usually if a product works I'm not too bothered about this, but to market a product with an all natural theme and have quite a few chemicals listed in the ingredients doesn't make perfect sense in my eyes.
Does it work?
If you're somebody who likes your products unperfumed then this is not for you as the scent is quite strong and it lasts. But personally I like my skin to smell as edible as it did after using this, so this was a plus for me!
My skin definitely feels rehydrated and smoother. It didn't leave me silky soft like some thicker creams can do, but as an everyday moisturizer it's perfect. Unlike those thicker creams it sinks into the skin easily and doesn't leave you with that greasy layer that sticks to your clothes.
It's also very reasonably priced at £4.88 for 200ml. A little bit goes a long way so this is sure to last.
Verdict
A beautifully fragranced everyday moisturiser that salves your conscience as well as your skin.
* Available from March 2009 from Boots, Superdrug and leading supermarkets.
About the Author
Jennifer Heath studied at the London College of Fashion and now works at online fashion retailer ASOS.
Jennifer's homepage: Love Getting Dressed blog
Advertisement