Advertisement
Featured article
Review: Revlon Pinch Me Sheer Gel Blush
Get your cheeks glowing with Revlon's new gel blush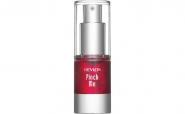 Revlon challenges its customers to "Get Cheeky" with their new Pinch Me Sheer Gel Blush. Being the makeup junkie that I am, I rose to the challenge and decided to give this new product a try. I did hesitate for a brief minute since I'd never heard anything positive about blush gels, but ultimately I decided to jump on in. I'm glad that I did!
Choosing the right Gel Blush color
I picked up the color called Peach Afterglow. The name really caught my attention, plus I look better in peach and coral tones than I do in pinks, roses, or plums. However, for those who prefer something different, Pinch Me comes in four colors:
Peach Afterglow
Cheeky Cherry
Playful Pink
Plum Flushed
Applying the gel blush
Although the packaging refers to this as a "gel blush", I think it better fits into the category of one of the newer "cheek stains." The translucent formula is extremely lightweight and very easy to blend, and is much more forgiving than traditional gel blushes.
article continued
Advertisement
I got a little too much with my first application, but found that I could easily blend it into my skin, and it didn't look at all heavy or artificial. It really did look like my grandmother had just pinched my cheeks; hence its name "Pinch Me."
The peach color I chose is amazing and really gave my skin a very fresh "tease" of color. It highlighted my cheekbones with a perfect sheer wash that was absolutely natural. Best of all, the color stayed on all day, unlike blush creams that often smudge or powders that perspire away in the summer heat.
Revlon's Pinch Me Sheer Gel Blush advertisement claims that you can also use the stain on the lips. However, I don't recommend that; I tried it once but found it made my lips very dry and uncomfortable.
The bad news
The downside to this product is the pump bottle delivery system. I discovered rather quickly that one of two things generally happens. Either nothing comes out when you pump the bottle, or the product spurts out in a big glob - and not necessarily where you want it to go.
I finally found it much easier to pump the product out onto a paper towel or styrofoam plate and then dab the gel from there. That process works beautifully and is a small price to play for such a wonderful product.
Verdict
I checked on the cost of similar blush gels and cheek stains and was surprised to find that most are two or three times more expensive, at $30 and up. Revlon's Pinch Me Sheer Gel Blush retails for between $9.99 and $12.99, for 0.5 ozs, depending upon where you purchase it. It is available at most drug and discount stores as well as online.
I wish I could give this one a full five stars because I truly love it. However, I have to deduct one star for the pump delivery system, which really needs an overhaul.
Related Articles:
Advertisement