Advertisement
Featured article
Buying wedding pearl jewelry
How to buy perfect pearls for your walk down the wedding aisle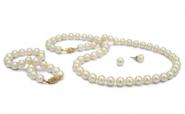 What could be more beautiful, more traditional, more right than walking down the aisle adorned in pearls? The answer: There is nothing more beautiful to complement a wedding dress than a stunning strand of pearls.
So what pearl type should you buy? What color? What grade?
Stop worrying. Buying fine jewelry for the wedding of your dreams does not have to become a daunting task. When you know the basics about pearls, jewelers and their grading systems you can set your mind at ease. You can select the perfect pearls that will stun and amaze your guests
article continued
Advertisement
How to Select the Perfect Pearl Type for the Wedding of Your Dreams
Since pearls come in a variety of shapes, colors and overtones they are the versatile, perfect choice to support any wedding theme. Here are my top 4 pearl types:
1. Akoya Pearls
There is nothing more classic than a Bride in a white flowing gown, her neck draped with dazzling Akoya pearls. These pearls known for their brilliant luster, elegance and infinite versatility are perfect for your wedding day if you're looking for a traditional wedding.
2. Cultured Freshwater Pearls
These are the latest best-kept secret. Cultured Freshwater Pearls that look very similar to South Sea pearls in size and luster are the affordable alternative to the Akoya. With uniformly round shapes, exceptional luster, shimmering orient, and an array of natural colors such as peach, lavender and white, these pearls are sure to charm and surprise your guests at a more modern and contemporary wedding.
3. Tahitian Pearls
If you're looking for something truly one of a kind. If you're looking for a pearl that's as individual as her owner, look no further. Available in a tantalizing array of bold colors such as peacock, pistachio green and silver Tahitian Pearls are perfect for your exotic wedding.
4. White or Golden South Sea
Available in an array of colors from the palest moonlight to molten gold, these pearls display a satiny luster that begs to be touched. Celebrated by collectors everywhere for their amazing sizes, you will feel very sophisticated when wearing these pearls down the aisle!
How to Carefully Select the Perfect Grade for Your Perfect Pearl Jewellery
Pearls are a diverse group, and vendors have had a difficult time agreeing on a scale that can be used universally. However, vendors have adopted a grading system that grades surface quality, luster and shape.
Here are my top tips to put your mind to ease so you can choose the right grade for your brides pearl jewelry:
1. A/A+
"A" quality is the lowest quality that is commercially available. They will be off-shape and only moderately matched. The surface will have wrinkles, small cracks, white or brownish spots, dimples and other nasty blemishes that can affect the long-term quality of the pearl.
2. AA
This quality has less than 15% surface inclusions, and will have fair to good luster. You should see a hazy reflection of yourself when looking at the surface. The shape will be round or with freshwater pearls, near-round and the matching job should be well done.
3. AA+
The luster will be slightly sharper than the AA pearl. You should be able to see your reflection in the pearl and some background detail. Surface inclusions will be down to 10%. These pearls will be perfectly round in shape and well-matched.
4. AAA
The 'gem-quality' pearl has less than 5% inclusions over its surface, and can be completely free of inclusions. Luster can vary slightly from pearl to pearl, but it will be sharper than AA+ quality. The nacre will be at its' thickest, and should present a glowing surface that is slightly translucent. The shapes and matching of a strand of rounds should be excellent with little to no variation.
5. HANADAMA
These pearls radiate light with a strong silvery-rose overtone, and display Orient, rainbow iridescences that shimmer on the pearl's surface are the absolute best Akoya pearls that you can buy.
Now that you received a little crash course in pearl selection, you are ready to venture out and buy some amazing pearl jewelry you'll treasure for a lifetime!
About the Author
Accessing strong relationships with pearl farms in Asia, Australia, and French Polynesia, Pearl Jewelry Expert Amanda Raab has developed the ability to import the top 3% of each pearl harvest. By sourcing pearls straight from the pearl farms, Amanda cuts the middleman and brings incredible wholesale prices to you without sacrificing quality. To walk down the aisle adorned in pearls go to www.purepearls.com for the absolute, best pearls guaranteed!
Related articles
From Daus to Wieck, who's who in the world of fashion jewelry
Get flower choice right for your big day
Build a collection you can wear forever
Top Stories
How to choose the jeans that look right for your body type
A tour through one woman's favorite Toni Brattin synthetic hair range
Look great without the expense and risk of surgery
Advertisement