Advertisement
Featured article
The latest trends in cosmetics
What's happening in cosmetics this year and next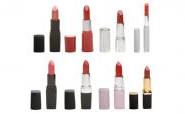 The woman of the 21st century is more conscientious about everything. Today's woman is strong, active, and beautiful and she intends to stay that way.
She is concerned about her planet. She is learning to control the food that her family eats and she is helping them build a healthier lifestyle. She exercises regularly so that she can maintain her own busy schedule. And she is taking care of the only skin she will ever have.
The modern woman is learning to embrace her natural beauty, even those freckles that she once considered anything but beautiful. She is moving away from the overdone mannequin look of the past and choosing to wear much less makeup than ever before.
article continued
Advertisement
Of course, she isn't going to give up her cosmetics altogether! She still wants to look as radiant as humanly possible, she just wants to do it in a healthier way.
General trends in cosmetics
Cosmetics consumers are increasingly watching the ingredients of the makeup products they choose, moving away from those that contain too many chemicals and preservatives and opting for something more natural like mineral makeup.
Most cosmetic manufacturers are getting on the bandwagon, unwilling to lose a healthy chunk of their market share. Some, however, hope that by slapping a "mineral" label on the brand, their consumer won't notice that, overall, the formula hasn't changed.
Women who purchase cosmetics are among the most loyal consumers of all. In an interview sample of over 30 women between the ages of 15 and 60 with varying skin types and makeup regimens, a startling three out of every ten stated that they would only consider a brand change if the new brand offered something their old brand did not. If not, they intended to stay put.
If another brand offered greater health benefits, approximately eight out of every ten said they would definitely consider a brand change. While cost certainly continues to be a major factor in determining which brand to choose, nine out of every ten women expressed a willingness to pay slightly more for healthier cosmetic choices.
What that translates to for the cosmetic industry is a need to keep evolving, moving away from dangerous ingredients like lead and closer to more natural options like bare minerals. That's good news for those who are already making such changes but bad news for those unwilling to progress. Only time will tell the latter's stance will do to their market share.
Cosmetics trends for 2008
The trends in makeup for 2008 continue toward a more natural look. That is perfect for women who have already made the jump to mineral makeup or those who have moved away from the use of heavy foundations, instead using delicate translucent self-correcting powders such as Ready to Wear's Couture Finish Powder, which contain pigments of color that help to even out the skin tone while leaving behind the appearance of flawless looking bare skin.
Even those who still choose to wear foundation are opting to spot conceal rather than lathering on a thick coat of makeup. The finish focus is matte and au naturale.
Blush, for the coming year, will be even more delicate than before, with some women opting for nothing more than neutral tones to highlight the cheekbones. Remaining blushes will be soft and feminine and make the skin appear to glow from the inside out.
While foundation and blush may be delicate, heavy focus will be on the eyes or the lips; never both at the same time. Today's smart woman is choosing to accent the positive, whichever features that might be for her.
Eyeliner will remain popular but some will chose a brushed metallic or colorful option at the base of the lash lines and most will be powder or liquid. Eye lining pencils are going the way of the dinosaur.
Neutral eye shadows in shades of taupe, bronze, and brown will remain popular, but the younger woman - or the woman or who is just more naturally daring - will probably try layering bright colors along with the neutrals.
Eyebrows for 2008 will be fuller and have a brushed, polished look. Lashes will be curled to the max. One of the hottest trends today is eyelash extensions. Every woman wants the longest lashes possible. However, clumpy lashes are a definite "no no." With all of the wonderful mascara options on the market today, there simply is no excuse for them.
Those who prefer to accent their lips will have lots of colors to choose from. Red is back once again but the neutral bare shades of pink and taupe remain popular as well. Again, the younger or more daring woman may even try one of the new hot pinks or bright oranges. However, today's woman has done away with lined lips altogether in favor of a vibrant glossy sheen.
The fake spray-on tan look is also becoming passe as women opt for the more delicate sun-kissed look. The best bronzers on the market for 2008 will mix a number of colors together to produce a natural looking "inner glow."
The modern woman is also cognizant of skin care, using moisturizers and skin creams that are made specifically for her type of skin. With all of the new anti-aging and wrinkle creams on the market, she can look a good ten years younger than her age, and that is exactly what she intends to do.
Today's woman is smart, sophisticated, and sassy and she is looking for those same qualities in her cosmetic line. Those that meet her demands will continue to do well. Those that falter, however, may just be left by the wayside.
Related articles
A moisturizer that smells divine
Why pale is the place to be
A foundation that blends to match your skin tone
Top Stories
What your waist and your BMI tell you about your health
Stay fashionable in 2011 without breaking the bank
Retinol-rich anti-wrinkle creams really can rejuvenate skin
Advertisement