Advertisement
Featured article
Review: Maybelline Super Stay 24 Color lipstick
A long-wearing lipstick that doesn't dry out or crack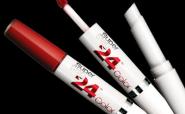 Maybelline Super Stay 24 Color makes a lot of claims, some of which it succeeds in fulfilling and some of which it does not. Let's start with the positive, and there are many good things to say about this product.
Maybelline Super Stay 24 Color lipstick comes in 30 different colors, which include four reds/corals, five berry colors, six shades of pink, seven purple, plum and wine colors and eight brown shades. The color pigment provided is intense and closely matches the corresponding color swatch provided on the box, which is important when you are buying a product that you cannot try on. Better still, the color has real staying power, holding without fading away as the day wears on.
What's more, the glossy effect of Maybelline Super Stay 24 Color is sheer perfection. And there is no denying the smooth, creamy formula of this lipstick glides on easily and looks beautiful in the process.
article continued
Advertisement
Another great thing about this product is that, unlike many of its competitors, it doesn't dry out. It remains soft, supple and pliable, and doesn't crack, crumble or cake – essential for a truly natural looking color. And the color stays where you put it. It doesn't feather into the fine lines and wrinkles that sometimes form around aging lips, nor does it transfer to glasses, eating utensils, fabric or skin.
That's the good news, and pretty good it is too. Now for the bad. Where Maybelline Super Stay 24 Color fails is its claim to last 24 hours. I managed to get mine to last a good 12 hours, which is longer than any other color stay lipstick I have found on the market to date, but that is still only 50 percent of the company's claim.
But then again, I can't imagine ever needing my lip color to last a full 24 hours anyway, and even 12 hours is pushing the boundaries of my requirements, so I'm happy with it despite this shortcoming compared to the grand advertising claims.
Maybelline Super Stay 24 Color comes with a double applicator. One end contains the color pigment, and the other is a lip balm that helps keep the lip color looking soft and pliable. It is a good buy for between $8 and $10.
Maybelline Super Stay 24 Color can be found everywhere that Maybelline products are sold. That includes drug stores, discount department stores and even some grocery markets. I think it is a very good product and certainly a lot more comfortable to wear than many of the long-wearing lip colors out there today. For me, this one is a winner no matter how you slice it. I recommend it whole-heartedly.
About the Author
Charlie has over 25 years business experience in various fields, having worked in food service management, floral design, business development and management, marketing, and training. She has authored several business handbooks, developed, edited, and produced content for multiple newsletters, and writes poetry.
Charlotte's homepage: Charlie's bio
Advertisement