Advertisement
Featured article
Leave your fake tan behind you!
Why pale is the place to be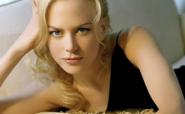 For several years now I have been extolling the virtues of pale skin across the spectrum from an aesthetic, health and fashion perspective. Even as the mainstream magazines have begun to endorse this return to a natural look, there is still a lot of resistance on the street.
Although the majority of us have forsaken sun beds after increased awareness around skin cancer and premature ageing, many of us still spend our holidays roasting our bodies on the beach, turning over every half hour for that perfect all-over tan, which will last perhaps two to three weeks after we arrive home! Fake tan began as a way to sustain that holiday glow but quickly turned into an epidemic. Orange faces (or oompalumpas as they became known), streaky hands and perma-tans throughout the winter months started cropping up all over the place.
Despite the fashion world heralding the shift towards translucent skin tones, women around the world are still clinging on to their fake tan for dear life. I will now debunk those myths and allow you to embrace a new life without fake tan!
article continued
Advertisement
A tan makes your eyes shine brighter and your teeth look whiter
Well, ok, so there is some truth in this. However a pale palette makes the colour of your eyes more vivid than against a tanned face. Imagine a splash of colour on a white wall and then the same splash against a brown wall – which do you think would stand out more? Besides I believe there is something nice about going on holiday and catching a bit of colour in your cheeks. When you come back everyone asks if you've been away, if you look like this all year round how can you appreciate the difference? And isn't there something great about having this versatility?
Your natural 'pasty' skin is enough to prompt questions about your health when you get to work in the morning
There are certain rules with pale skin. I concede that with a natural tan you can get away without wearing make up. But with a fake tan, make up is necessary to even out the colour and blend any streaky bits, so you have not gained anything overall. I know that the shock of seeing a pale and sometimes pasty face in the morning mirror can make you feel like you just crawled out from the crypt, but don't go running back to the bottle! Pale skin simply needs the same love and attention as you would give to your fake tanned skin.
Start with an illuminating base such as Chanel's newly relaunched Le Blanc de Chanel which will minimise pores, give an even skin tone and act as primer for your foundation. Most importantly it will make your skin glow! I use this myself and I can vouch for its effectiveness - it actually manages to achieve what so many products claim to do and leaves your skin looking pretty much flawless!
Next, use a good foundation. As ever, make sure it matches your natural skin tone. Many women use the same foundation whether they have a tan or not, but its important to check frequently that your foundation is still the right shade for your skin as you may need to step down several shades during the winter months, or as you ease off your fake tan addiction.
Lastly and the most important rule of pale skin: ALWAYS WEAR A BLUSHER. It doesn't matter what shade - it doesn't have to be bright red, a soft pink works just as well - but if you have the slightest doubts about looking washed-out, a blusher is your answer. It brings colour to your cheeks and highlights those cheekbones to more effect as once again the colour is set against a blank canvas.
Pale skin is unforgiving- blemishes and bags under your eyes are all too apparent
I do concede. But a foundation with good coverage and a dash of Touche Eclat should resolve these issues. Turning this on its head, if you are so fortunate as to have good skin to start with, there is nothing like pale skin to show this off! Why hide it under layers of fake tan?
An all-over tan makes you appear thinner and in hides pesky cellulite.
I'm not quite sure where I stand on this, as I used to agree. The thought of baring all in a bikini without my tan to hide behind filled me with dread. However I have reached a conclusion on this point. Its not having a tan that makes you appear thinner, it's the fact that you have an all-over consistency of colour. Whereas previously I would strip off with my brown legs and arms, my white thighs and belly would be all too apparent, even flabby by comparison. Now that I am pale from head to toe none of my body parts seem to stand out in such a hideous manner.
It harks back to that age old rule that black shoes with black tights elongates the legs, making them appear lithe and thin. In the same way, having a tan that ends mid-thigh will appear to chop your leg in half.
Now all these fears have been answered, ask yourself one final question: why is it that Asian women so often look so much younger than their years? Well, it may be the green tea, the healthy diet or just in the genes. Or it could just be that they carry parasols with them wherever they go to protect their faces from the sunshine?
In Asian culture white skin is revered, once being the mark of the upper classes who were spared from working in the field. In recent decades pale skin, along with eye surgery, became part of the Asians woman's attempt to emulate the western woman. So why is the western woman eschewing this inherent and elegant skin tone? It's time to embrace your natural colour, be it lily white, creamy or olive…anything except orange!
About the Author
Jennifer Heath studied at the London College of Fashion and now works at online fashion retailer ASOS.
Jennifer's homepage: Love Getting Dressed blog
Related articles
A mineral makeup FAQ - what makes these cosmetics so popular?
What they are and what you need to know
How to stop the acne and blackheads caused by oily skin
Top Stories
The nine most common problems to avoid when trying to lose weight
A review of the ones to avoid!
How to burn more fat during your cardio workout
Advertisement