Advertisement
Featured article
Beautiful clothes no matter your size
Fashion designers for the plus size woman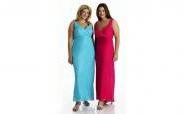 Everyday we hear stories on the news about people carrying more weight than ever before. In America, the obesity rate is at an all time high, and in Britain is becoming an increasing problem.
Unfortunately this weighty trend doesn't show signs of turning around quickly. Part of that is simple mechanics, as putting the weight on is infinitely easier than taking it off. Another culprit is today's hectic pace; every year people are working more hours, are involved in more out-of-the-home activities, and are more emotionally stressed. That means we are likely to continue to take advantage of the convenience of high calorie, low health-content fast food.
So the fact remains that there are a lot more women who fall into the "plus size" category, and this is unlikely to change soon. Yet most clothing designers refuse to acknowledge the existence of this retail base. Is this an issue of prejudice? Perhaps they just don't want to acknowledge that plus-sized women exist. Or maybe it's simply that they are snobs, thinking their designs are so spectacular that plus-sized women don't "deserve" to wear them. Surely it can't be a deliberate decision to only sell to one tiny sector of their potential target audience! Whatever the reason, most designers simply don't make anything past a size 14 or 16.
article continued
Advertisement
There are, however, some designers who have are not only willing, but actually seem eager, to serve the plus size market. Some of them are extremely well known all around the world, like Bob Mackie, Nolan Miller, Emanuel, Gabriella Rossi, and Randolph Duke. Others may not have an international reputation, but they definitely click with women in America and much of Europe. They include Terry Lewis, Anthony, Susan Graver, and Jean Bice.
Unlike most of their competitors, these fashion-forward designers are willing to design clothes for women from size four to 24. I'm not just talking about ugly baggy shirts or caftans either. These designers provide the latest fashion trends in jeans, dresses, skirts, tops, jackets and more. To make sure of the fit, many of them use fit models rather than mannikins. This ensures that every woman has the opportunity to put her best foot forward.
For the woman who yearns for something a step above the norm, designers like Nolan Miller, Bob Mackie, and Randolph Duke offer class and sophistication as well as fun and perfect fit. From simple tees to leather jackets and even glamorous gowns, Nolan Miller designs fashions that make every woman feel like the star. With most of his collection focusing on absolute elegance, Miller's customers can easily step on to their own red carpet and command the utmost attention. Whether it's a lace tunic, velvet skirt, or butter soft leather jacket each and every piece of Miller's clothing screams style.
Bob Mackie's designs run the gamut from cozy casual to premier ready fashion. Using luscious fabrics, great textures, bold patterns, and punches of color, Mackie gives women the chance to make an affirmative statement every single day. Randolph Duke's clothing collection is always trendy, sophisticated, and versatile. He is the master of illusion, often designing clothing that can be worn more than one way. From denim to suede or from cotton to knit, Duke fashions are always on-trend and happening.
Women who like something a little more down to earth can easily turn to Emanuel and Gabriella Rossi. Emanuel fashions are flirty and fun. Each Emanuel collection features the most current trends in fashions, the day's hottest fabrics, colors, and cuts. Gabriella Rossi focuses heavily on knit fabrics, which fit into almost any lifestyle. Like Emanuel, Rossi's collections are cut to accent the best part of a woman's body and to move gracefully as she moves. It's a beautiful fusion between fashion and form.
For the working woman, designer Susan Graver provides fabrics that don't wrinkle easily, glide like air on the body, and make the wearer feel like a million dollars. From her silky soft peach skin fabrics to her signature faux leather, Graver designs elegant pieces that can be mixed and matched with ease and stand up under the most brutal lifestyle. From casual tees to beautiful twin sets and from embroidered denims to soft elegant laces, Graver offers something to suit the taste of women everywhere. Even better yet, most of Graver's pieces can easily move from day to night with a tweak in jewelry, a change of shoes, or the addition of accessories. Best of all, Graver's price tags are unbelievably low for the quality of her fashion.
For those who prefer clothing with a little pizzazz, Anthony Designs almost always fit the bill. While he specializes in beautiful ethnic designs, he designs for women in general. His collection ranges from casual chic to party ready. His designs aren't for every woman simply because Anthony doesn't do the mundane. He's into unusual shapes, layering, and lots of "bling." His fabrics are soft, elegant, and easy to wear. His cuts are unusual and loaded with sass. Don't let his price tags fool you, though, because this designer's clothing stands up well, even on the worst day imaginable.
The woman who leans toward the casual side of life will love Quacker Factory by designer Jean Bice. From cute little novelty sweaters to rhinestone and pearl embellished fashions, Bice's clothing is highly recognizable. Her customers are extremely loyal to the Quacker Factory; many collecting her designs for their artistic value as well as for the fact they are simply fun to wear. Bice does everything from adorable pjs to elegant shirts and sweaters that make their wearers feel special each and every time they put them on. Like some of her fellow designers, Bice's fashions are priced to fit the budget of today's working woman.
Last, but never least, Terry Lewis designs a line of fashions called Classic Luxuries. Although she now features collections in many different fabrics, her focus remains on suede, leather, and faux fur. But we aren't talking about just any suede or leather. We are talking about fabrics that are soft, supple, and infinitely wearable. Lewis's jackets and pants are cut perfectly to make any woman's body look its very best. Her leather designs range from plain to embellished and even laser cut with elaborate designs. Her color pallet is always on trend, with something to fit any skin tone. Although her leather pieces are easily the best on the market today, her faux fur pieces are even better still. Whether long or short or car coat length, Lewis's incredible fur mimics the real and even exceeds it from time to time. At prices a fraction of those normally seen for like fashions, Lewis has quickly built an extremely loyal fan base.
All of the designers listed here have their own design houses and sell their clothing in specialty boutiques and retail clothing stores as well as on the Home Shopping Network (HSN) or QVC. For more information or to browse their collections, check out their designs on the Internet or through the HSN and QVC websites.
Every woman deserves to feel beautiful, whether she is a size zero or a size 24. More than that, she deserves to be recognized for the person that she is and the contributions she has made to the world; not just for her size or her looks. It's rewarding to know that at least a handful of designers have taken that message to heart and responded. On behalf of plus size women everywhere, I offer our heartfelt thanks.
Related articles
We women push size zero standards on ourselves
A period of corsets and petticoats galore!
10 fashion essentials that every woman must have
Top Stories
A fantastic undereye concealer and highlighter in one
A self-tanner that delivers a flawless tan
From flare to skinny, we cover them all
Advertisement