Advertisement
Featured article
Key make-up trends for spring/summer 2009
What make-up is hot and what's not on the spring/summer 2009 catwalks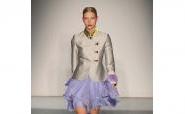 The catwalk shows are always an inspiration for next seasons make up trends. Admittedly the war paint of the catwalk may be a little too overpowering for a day at the office, but if you can adapt a few of the principle trends you'll be onto a winner!
Blush me up
Many a rosy cheek was seen on the Spring/Summer 09 catwalks, with pink being the colour du jour. Jonathan Saunders took the lead with a fierce pink blusher spilling into pink eyelids and finished off with a bright red lipstick. For a more pared-down look, the new blush rule is not to apply to the apples of the cheeks, as we are forever being told, but to sweep it along the highest point of the cheekbone and swirl up into the temples and hairline. I can promise you, done correctly this is a natural face lift.
An additional shading into the hollow of the cheekbones with a blush a few shades darker than your natural skin tone (not pinks or reds!) will give you the oh-so-coveted 'cheekbones you can cut glass on'. Guerlain has recently released a new range of 'sculpting' blushers that would be perfect for this.
article continued
Advertisement
As with all make up, you are only as good as your tools. MAC do some great blusher brushes; No 138 is recommended as it is finer and so doesn't pick up too much of the blush, helping you to avoid the dreaded clown face. The rest is up to you, get blushing!
The nail colour of the season
Only in recent years have the catwalks spawned the trend for a fashionable nail colour. We've gone from black to dark navy to blood red to white in the short life span of the fashionable nail colour, and this year green has been spotted at the shows. Think grass green and steer clear of anything that may look fungal! Barry M Nail Paint in Spring Green has that freshly cut grass colour down to a tee and it's a bargain at £2.95. With bright fun shades it's best to keep nails short and neat.
Bright Eyes
Colour blocking is one of Spring/Summer key fashion trends for 2009. That is to say, wearing blocks of bright colours were much in favour; reds, oranges, cerise and purple especially, as were greens, bright blues and yellows – so that about covers the colour spectrum! There are two ways to interpret this with your make-up.
You can keep your make-up simple with nude shades and a slick of black eyeliner if you're already wearing a colour explosion
Be brave and show commitment to the trend with eyes that are as bright as the dress you are wearing. Blues, purples and greens look great on the eyes, oranges and yellows are a little harder to pull off, but can be great if you're of a darker skin tone. Miu Miu kept it subtle and sent their models down the catwalk with a single slick of crisp green liner over the top lash line.
Many brands offer bright shades these days but my personal favourite is MAC for its daring tones. One rule to remember is not to be afraid of clashing, clashing is good! Pink blusher and orange lipstick anyone? Scrumptious.
Related Articles:
About the Author
Jennifer Heath studied at the London College of Fashion and now works at online fashion retailer ASOS.
Jennifer's homepage: Love Getting Dressed blog
Related articles
There's a lot you can do with your clothes without spending money
What they are and what you need to know
How to choose the jeans that look right for your body type
Top Stories
Advice on how to dye your hair successfully
What massage therapy can do for both body and mind
What issues arise when giving reflexology to children or teenagers?
Advertisement