Advertisement
Featured article
Review: Antipodes Divine Face Oil
An excellent intensive moisturizer and 100% natural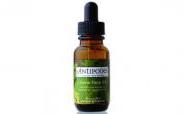 Facial oils or serums are mainly used as intensive moisturisers, as they are richer and more fully absorbed by the skin than moisturising creams. They can be used once or twice daily after cleansing and toning the skin and can be used instead of a cream moisturiser, or for very dry skin can be used underneath & in addition to a cream moisturiser.
Antipodes' Divine Face Oil comes packaged in a dark, glass bottle, with an 'easy to use' droplet applicator. It is marketed as 'A gorgeous non-greasy facial oil that penetrates deeply, giving life to tired & stressed skin. Perfect as a base for make-up'. The ingredients in this product are 100% natural and 95% organic.
When testing the product I found that it was a green oil, smelling pleasantly of the avocado, which is the main ingredient. The oil spread easily onto the face and neck and did absorb well; however my skin is fairly oily anyway and I found the product a little too heavy to use in the morning. At night however it was fine, as by the morning the product had totally absorbed into my skin.
article continued
Advertisement
In addition to avocado oil, Divine Face Oil contains the delicate oils of sweet orange and jasmine. Needless to say they are somewhat over-powered by the avocado, but this is a super- nourishing product and as well as using it on the face and neck at night, I have been using it on my dry cuticles and my elbows with great effect
It is a little heavy for my combination type skin in the morning though, and as a base for make-up, its too heavy for me. I would recommend Divine Face Oil to those with dry or dehydrated skin types as an intensive daily moisturiser. The price is fair too, considering it is a 100% pure product.
Advertisement