Advertisement
Featured article
Review: Noxzema Original Deep Cleansing Cream
A cleansing cream and make-up remover in one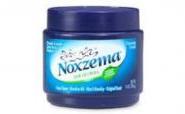 One of my favorite facial cream products is the Noxzema Original Deep Cleansing Cream. This Procter & Gamble product came to us in the 1960's and has been around ever since for the natural facial skin cleansing it provides.
Noxzema Original Deep Cleansing Cream is sold in a short, 14 oz blue jar and of all the Noxema products, it is by far the simplest, and in my opinion the best. It is very much like a cold crème; white, cold out of the jar, foamy, with a strong menthol smell.
The scented camphor and menthol ingredients cause a tingling sensation on application; they are designed to open up skin pores, and help to moisturize and soften the skin. They may irritate sensitive skin at first, but generally the irritations do not last for more than a week, and speaking personally, as someone with extremely sensitive skin, I have never had a problem.
article continued
Advertisement
The way to use Noxzema is to take a couple of fingers, scoop up a less than generous amount, and rub the cream onto your face in a circular motion. Even a small amount goes a long way; it has light, fluffy, tingling sensation, and you can feel it seeping into your pores and opening them up.
Leaving it on your face for a few minutes or longer really helps to open up your pores but you shouldn't leave it on to the point of drying it out; you want it to feel cool on your skin, not dry. Noxema doesn't dry as quickly as soap would, and I tend to leave it on for 3-5 minutes. After that, you should splash your face with water and wash the cream off, which will have formed a thick foam that will cling to your skin.
After splashing my face clean of Noxzema, I feel refreshed, my face feels cool, and my pores literally feel more open. And most importantly, my skin doesn't feel dry.
One of the best things about Noxzema Original Deep Cleansing Cream is that it can also clean off your makeup. Instead of buying a traditional make-up removal cleanser or using deep moisturizing paper towels, you can apply a generous amount of Noxemea to your face. Then simply use a paper towel, tissue, or a wet cloth to wipe away your make-up. Again, leave the Noxema on for a few minutes. Then wipe it off, and off comes your make-up leaving your face fresh and clean. You should again splash your face with water to remove any excess Noxzema.
Aside from being a facial cleanser and a make-up remover, the very best thing about Noxzema Original Deep Cleansing Cream is the price. Buying a lot of different products, new and old, to clean your face and get rid of make-up can be expensive with each product costing between $5 and $25. But Noxzema in the short blue jar will cost only about $3.79 (US), and will last about two months if used twice a day, if you use a single finger of cream for each cleansing (which is plenty to spread across your face).
Ingredients
Ingredients: Water, Stearic Acid, Linum Usitatissimum (Linseed) Seed Oil, Glycine Soja (Soybean) Oil, Fragrance, Ammonium Hydroxide, Camphor, Menthol, Eucalyptus Globulus Leaf Oil, Propylene Glycol, Gelatin, Calcium Hydroxide.
Conclusion
Noxzema Original Deep Cleansing Cream is sold as "soft, smooth and never greasy", and this is a fair description. It moisturizes your skin, makes it feel cleaner and smoother, tightens the skin to fight wrinkles, and can be used as a make-up remover. The only drawback for some people might be an initial irritation due to the camphor and menthol. Overall it is one of my favorite skin products.
About the Author
Carmen is a filmmaker who enjoys producing, writing and editing. She has a BA in Mass Media and a MFA in Film. Recently she has produced and edited a short documentary and is currently producing/directing independent films. She is also a short and feature screenwriter.
Advertisement