Advertisement
Featured article
Microdermabrasion for beautiful skin
An introduction to a non-surgical cosmetic procedure for younger-looking skin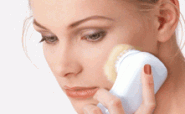 Microdermabrasion is a cosmetic procedure on the skin that is growing rapidly in popularity both in Europe and America. Women everywhere have jumped aboard the microdermabrasion train, making it one of the top non-surgical cosmetic procedures used around the world, and increasingly men are turning to it as well. In this article we'll have a look at what it is and why people are turning to it in increasing numbers.
What is microdermabrasion?
Skin is made up of two main layers, the epidermis and the dermis. The epidermis is composed of a set of dead or dying skin cells that cover another layer of cells, which are in the process of developing and maturing. The very outer level of the epidermis is called the stratum conreum, and it is this skin layer that is exposed to all the ills of weather, time, and problems that tend to impact the skin. It does its best to work as a barrier to prevent damage to the lower skin levels. Unfortunately, the stratum conreum layer tends to highlight skin imperfections like fine lines and wrinkles or skin blemishes. It is this very outer layer of the epidermis that microdermabrasion seeks to remove, and so make our skin appear younger-looking.
Microdermabrasion works by gently exfoliates this outer epidermal layer, the stratum conreum, buffing away dead and dull skin cells to reveal a fresh, younger-looking skin beneath. Pure, sugar-fine mineral crystals gently sweep away the damaged surface cells, encouraging the skin's natural renewal process, so that radiant, refined skin can shine through. The procedure is quick and relatively painless.
article continued
Advertisement
The history of microdermabrasion
The microdermabrasion process was developed over a decade ago in Europe and was used extensively in Italy and France for many years before its popularity began to spread, first becoming popular in England around 1997, and in America about a year later. Part of the reason for the success of the process is that it can be done in the privacy of your own home, at a relatively low cost.
How does it work?
In many cases it is possible to note the reduction of fine lines and wrinkles after just one treatment, and with continued use, following the directions of the system chosen, wrinkles can decrease significantly. But lines and wrinkles aren't the only thing that microdermabrasion can help; the process has also been found useful in fading age spots and other superficial skin damage caused by the sun.
Microdermabrasion stimulates blood flow, which increases the nutrition delivered to skin cells, improving cell production and thus improving the skin's elasticity and texture, making the skin softer and more capable of retaining hydration. However, the time that it takes to achieve this level of skin cell renewal will vary from person to person, depending upon various factors which include:
age
condition of the skin at the time of application
other skin conditions (e.g., acne, rosacea, etc.)
sun exposure
facial pigmentation
... and more. The average woman, however, will be able to view significant results within four to six weeks.
Additionally, the removal of the stratum corneum, allows the skin to more easily experience the benefits of skin care products. Because microdermabrasion temporarily removes some of the skin's natural moisture, it should always be followed by the application of rich moisturizers. The best treatment benefits will be experienced when proper skin care is performed daily; such treatments should include the use of a cleanser that is oil free with an alpha and beta hydroxy acid base.
Scientific studies continue to explore the benefits and dangers of microdermabrasion. Some suggest that repeated use of the process causes rapid loss of skin moisture, which may in turn trigger the lower layers of the skin to grow and mature at a much faster pace; moving them more rapidly to the skin's surface. If this turns out to be true, then the microdermabrasion process could even prove helpful in removing deeper blemishes.
Who can and can't use microdermabrasion?
While there is no set age range for the microdermabrasion process, it appears to be most effective for women in the early stages of aging - between the ages of 35 and 50. Younger women, however, may also obtain some benefits from the process, particularly for use in reducing mild acne scarring, hyperpigmentation, and clogged pores. On the flip side, older women may find that many of the resurfacing abrasives currently available are too harsh for their skin. It may, therefore, take several different tries before such a woman finds the system that is right for her.
Microdermabrasion isn't recommended for everyone. Those with any of the following conditions should check with their physician before embarking on any microdermabrasion process:
Active sunburn
Advanced age (over the age of 80)
Dermatitis
Eczema
Extensive hyperpigmentation
Excessively sensitive skin
Herpes
Lupus
Open sores
Rosacea
Severely scarred patients
Severe skin conditions
Skin lesions
Vascular lesions
Widespread acne
Anyone uncertain whether or not they are candidates for the microdermabrasion process should always check with their doctor.
Which microdermabrasion system is best?
There are dozens of personal microdermabrasion systems in the marketplace today. Here are a few of the most popular, listed in alphabetical order:
Dermafresh @ $20
Dermanesse @ $80
DermaNew @ $70
Great Skin Microdermabrasion System @ $30
Homedics Microdermabrasion System @$30
Lancome Resurface-C @ $83
L'Oreal Microdermabrasion System @ $25
Medicool Microdermabrasion System @ $40
Neutrogena Advanced Solutions @ $30
Youthful Essence Microdermabrasion System @ $40
There are multitudes of websites that do an excellent job in breaking down the various systems, therefore helping women to make solid decisions with regard to skin care, and before purchasing any expensive microdermabrasion system, you should do the appropriate research.
Most systems range in price from around $20 to hundreds of dollars; however, one should not assume that more expensive necessarily means better. I started off with the Youthful Essence Microdermabrasion System by Susan Lucci, which retails for just $39.99. I loved the system when I was still in my 40's. However, as my skin aged, I found it too abrasive for my fragile, delicate skin, and I now use Dove's Skin Revitalizing System. I find this works better for me at this point in time.
Again it should be emphasized that women with any doubts or concerns should check with experts in the field of skin care before purchasing any system. The purpose of microdermabrasion is to make the skin feel and look better, not to damage it in any way. Research is the key to making a good, solid purchase!
Related articles
A look at alternatives to electrolysis and waxing
What you can do to turn the skin clock back
Mid-year is as good as New Year for making a new you!
Top Stories
A look at pubic hair removal methods
How new complexion analysis technology can prevent skin ageing
A concealer that really does soothe those under-eye circles away
Advertisement