Advertisement
Featured article
Review: Ojon hair care system
A fantastic product that works on any type of hair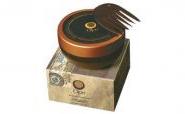 Women are always searching for better hair care products
Women all over the world constantly search for products that will make their hair look the best it can possibly be. Hair is, after all, a woman's crowning glory. It is one of the first things that people notice about you. It is one of the things that attracts the opposite sex to you. It is also one of the few things over which women often have little control.
Unfortunately, not all hair is the same. Some women have coarse hair; some fine; and some baby fine. Some have thick hair and some have thin. Hair colors range from the palest blond to the darkest possible shade of black. Some is cut super short, like a boy, and some is long enough to pass a woman's waist. With all of these differences, it is natural to wonder if there is any single hair care product out that can work for everyone. My assumption was that it was highly unlikely, but I'm glad to state that I was wrong.
My personal hair care issues
I'm one of those women who has so many things wrong with my hair that most hairdressers won't touch it with a ten-foot pole! My hair is ultra baby fine. Although I used to have a lot of it, as I have aged it has quite naturally begun to thin. Health issues and required treatments caused even more thinning. What I lacked in texture, I once made up for in sheer volume. However, that is no longer the case. My hair now breaks so easily that I'm afraid to touch it.
article continued
Advertisement
My hair is also straight. I don't have an ounce of wave or curl, and because it is so fine it won't hold curls no matter what styling product or item I use. Finally, my hair color is virtually nondescript. It isn't really blond, brown, or red but some weird mixture of all three. Consequently, I use permanents to curl or wave my hair and coloring to give it definition. Of course, the outcome of all that chemical treatment is hair that is severely dry and damaged.
I am not alone in my hair care woes. Women everywhere have problems with their tresses. Even though those problems differ from woman to woman, the outcome is often the same: hair that they hate with every fiber of their being.
A hair care solution that actually works
I am happy to say, however, that I finally found a hair care product that helps. I'm not going to lie and say that it solves all of my hair issues; I don't think any product can ever do that. However, it definitely helps more than anything else I've ever tried. It gives my hair wonderful texture and shine as well as some much needed bounce and vitality. It is called the Ojon hair care system.
First of all, let me say that even if you can't afford the entire kit, there are one or two key products that will help more than you can possibly believe. However, before I outline what is available in the Ojon line, let me give you a little background about the hair care system itself. Ojon comes from the rain forests of Central America, home of the Moskitos, a tribe discovered on one of Columbus's visits to the Americas. Over the years, however, the Moskito has better become known as the Tawira, which means "the people of beautiful hair." For more than 500 years, these natives kept the secret of their luxurious locks a secret from the rest of the world. Even those who noticed and questioned their hair beauty secrets naturally assumed that that their stunning tresses were simply the luck of good genetics. They were incorrect.
The secret of the Tawira's strong, healthy, shiny hair lies within the tropical Ojon tree. The 100% pure and highly concentrated oil of the Ojon tree hydrates, strengthens, and restores the healthy look and feel of hair, leaving it soft, silky, shiny, and totally manageable. While there is a variety of Ojon products available on the market today, most of them can be used by any woman with any type of hair. My favorite kit in the line is called their "Rare Harvest Collection."
The cost of this kit varies from between $16 (for the average size individual bottle product) and $70 (for the most extensive kit). It includes the following:
The Ojon Restorative Hair Treatment is a highly concentrated intensive hair and scalp treatment that is made with pure Ojon oil - the very same oil that the Tawira have used for more than 500 years. This miraculous conditioning paste rehydrates the hair as it strengthens the hair shaft and coats it with Mother Nature's natural answer to dry, damaged hair. It is easy to use and can be left on for as little as a twenty minutes (for average conditioning) or as long as twelve hours (for a spectacular change). When my hair is at its worst, I put it on in the morning and let it work its magic as I go about doing my daily chores. Then I wash it out in the shower just before bed. The paste can also be used in very small amounts as a shine-enhancer.
For shampoo I use Ojon's Ultra Hydrating Shampoo. Its rich and luxurious formula cleans and hydrates the hair in a single step. It also soothes damaged hair and adds a soft, weightless shine. The Ultra Hydrating Conditioner works in conjunction with the shampoo to add further moisture and to ensure silky soft, manageable locks that will hold curl and shine. Finally, I add Ojon's Hydrating Styling Cream, a weightless leave-in formula that helps to eliminate and prevent frizz, while adding depth and definition to the hair. Like the shampoo and conditioner, the styling cream also moisturizes and reflects in the light to make the hair shine bright as the sun.
I finish off my completed hairstyle with Ojon's Elastik Flexible Finishing Hairspray. This unique hair care product features a rare protein-rich extract from the Tanu rubber tree, which adds body, bounce, and hold to even the most complex hairstyle. The elastic properties come from a natural latex which contains isoprene polymer chains that allow the hair to stretch as it is styled and snap back together to hold the original wave or curl. Of course, like all Ojon products, it is enriched with 100% pure Ojon oil to add even further strength and hydration.
I will admit to being skeptical that a product that worked on my baby fine, straight, dry, brittle, damaged hair would also work for my daughter whose hair is less fine, curly, and combination (part oily and part dry). I needn't have worried, however, because it worked like a charm. My husband even uses it for his coarse, wavy, oily locks.
Ojon also carries a line of products that thicken, add volume, detoxify, and/or add even more shine; depending upon each woman's individual requirements. While I will admit that Ojon isn't cheap, the products tend to last a bit longer than most of those you find in a drug or discount department store. Ojon products are much thicker and much more luxurious, thereby requiring less product per application. So I have to say Ojon products are worth every single penny!
Related Articles:
Advertisement