Advertisement
Featured article
Review: L'Oreal Dermo-Expertise Sublime Bronze Self-Tanning Gelée
A self-tanning gel that gives a great result - if you can wait long enough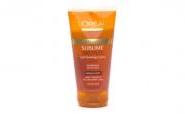 What do we want from a self-tanner?
If you could think of 3 things that you would want in a self-tanner, what would they be? Go ahead and write them down. Let me guess what they are – streak free, ease of application, and natural looking results. Was I right? Probably close enough. I have tried literally every sunless tanner on the market and have ended up with some success here, some there, never have I found THE product that would meet each of those three needs when it comes to self-tanning solutions.
L'Oreal Dermo-Expertise Sublime Bronze Self-Tanning Gelee (Medium Tinted)

So you can only imagine my trepidation when I spent the money on the L'Oreal Dermo-Expertise Sublime Bronze Self-Tanning Gelee (Medium Tinted). I was not expecting great things.
I bought this product because it was marketed as being tinted, thus meeting the ease of application need, and also because it was said to be streak free. It even says that right on the bottle. Those two needs seemed more important to me than the natural look so I thought 2 out of 3, let's see what happens.
article continued
Advertisement
First impressions
L'Oreal Sublime Bronze Self-Tanning Gel comes in a 150 ml bottle with a flip cap. Exfoliation is recommended, but if you cannot, apply to clean, dry skin. You squeeze the product onto the surface you wish to tan, and massage it into your skin. The fluid gel is tinted a brownish bronze color, and has a very light consistency to it. The scent as you are applying the gel is very fresh and clean, and has a light, non-greasy feel to it.
This gel also has added Vitamin E to provide additional conditioning for your skin. As with any self-tanner, use lightly around the ankles, knees, and elbows and wash your hands immediately after use. This product is said to dry in less than an hour, and you need it to dry before you get dressed. You can use this daily until your desired tan is achieved, then a maintenance of 1-2 times a week is suggested.
Drying time
The first caveat I found here was the drying time was closer to the 1 hour mark than the less than 1 hour mark. Thankfully I work from home and can get away with this, however not many can, so prepare yourselves accordingly when using this product. You really cannot get dressed until it is dry.
Instant bronze glow?
Secondly, the product states that you will "enjoy an instant bronze glow" immediately upon application - and the name is Bronze Self-Tanning Gel after all! I did not find this effect at all, and saw no bronze on my legs until it had dried. Perhaps I did not put enough on, but I shudder to think how much longer it would have taken to dry if I had.
Tint
Thirdly, the tint in the L'Oreal Sublime Bronze Self-Tanning Gel (Medium Tinted) really does nothing to help guide your application. So I was disappointed in that.
The good news
That being said, once drying time was complete, the end result made up for all of the above caveats. I have never used a self-tanner that looked so natural, and so streak-free. The product really works, and does what it says it is supposed to.
Final thoughts
You will hear a lot of people saying that this leaves you with that "self-tanner" smell after all is said and dried, and they are right. But switching from one product to the next is not going to change that.
Self-tanners clog your pores a little bit, and so that smell is inevitable. I did find that smell with this product as well, however, it is more noticeable to you than anyone else. Dab a spot of perfume under your nose to switch your smell gears and take your mind off of it.
Really that small factor should not stop you from trying L'Oreal Sublime Bronze Self-Tanning Gel. Unless of course you aren't interested in a natural looking, streak-free sunless tan?
About the Author
Christine has a Master's Degree in both Education and Psychology, and is currently a single stay-at-home mom. She has been a freelance writer for 5 years now, and is currently specializing her work in the health, beauty, and fashion industry. She says: "I love finding new products that WORK and my passion is passing this information on to my readers. There is no reason everyone shouldn't look their personal best. Beauty is not a luxury, it's your right!"
Advertisement