Advertisement
Featured article
Blush tips and tricks
How to choose and apply the blush that's right for you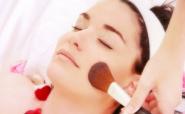 If there is one cosmetic that women bungle more than any other it is blush. Some women choose the wrong type or color for their complexion. Others add far more than they need or apply it incorrectly. Let's look at the tips and tricks you need to get it right!
What type of blush is right for me?
The type of blusher you use will be dependent on two things; which product is easiest for you to apply, and your individual skin type.
Mineral blushes are highly refined, making them easy to apply in a fresh veil of translucent color, which works well for virtually every type of skin.
article continued
Advertisement
Powder blushes, the most popular blush type, also offer controlled color that is simple to apply. However, while these blushes work well for normal to oily skin, they aren't recommended for women with dry skin.
Blush sticks and creams are tricky to apply and can look heavy and overdone. The color pigment of these products tends to be more dense, making them difficult to blend. Women with normal to dry skin may find that creams work well for them, while women with oily skin will prefer a blush stick.
Liquid and gel blushes can be even trickier than creams. Gels often dry before blending is complete while liquids take forever to dry and smudge easily. Some gels are also drying to the skin, while some liquids add more oil to already oily skin, so neither product will work for everyone.
Perhaps the best blushes on the market today are the combination powder-creams, which deliver a wonderfully vibrant color that generally lasts all day and is suitable for most skin types.
What color blush should I use?
As silly as it sounds, movie stars of yesterday had the concept right when they pinched their cheeks in order to induce color. This process can actually help you decide which color of blush to choose.
One of two color schemes work pretty well for most women - corals or roses. To determine which might work best for you, the "pinch" technique should do the trick. Of course it isn't the only method to use. A lot of women prefer to use blush that matches their lip color. If neither of those methods sound appealing, there are a few more tips to keep in mind.
Deep colored blushes are too harsh for anyone with fair skin. And unless you want the Betty Boop look, you may want to stay away from bright red blush. Light pink can look glowing on a girl of 16, but it will make a woman of 60 look out of place. Dusty pink blush in contrast will warm tired looking skin and works well for older women. And many bronzing powders make good blushes since they simply deliver a sun-kissed look.
You should change your blush with the seasons, using deeper, richer colors for autumn and winter, and paler tints for spring and summer.
How do I apply blush?
It will help to know your facial structure. Women with longer faces should apply blush at a horizontal angle to create the feeling of a wider face, while those who have a wider face should apply theirs in the center of the cheek, being cautious not to get too close to the nose. Blush should never go below the bottom of the nose.
Too apply, smile to identify the apples of your cheeks. Starting there, apply your blush in small sweeping motions that blend back toward the hairline. If your face is wider and you need contour, use a deeper shade of the same color in the hollow of your cheeks. Also lightly apply blush across your temples, chin and the bridge of your nose to add that "sun kissed" look. To conceal a double chin, you can also carefully apply blush underneath your chin.
It is always best to apply a small amount of blush in the beginning. It will be easier to add more blush than to remove the excess. If you do add too much blush, or if the shade looks too harsh, apply translucent powder over the top to tone down the color.
The purpose of blush is to add color and depth to your face to enhance your natural beauty. However, no blush is preferable to blush that is improperly applied. The trick is to practice, practice, practice, until you get the look that makes your eyes sparkle and your skin glow. Once you have it, hang on to it for as long as you can!
Related Articles:
Related articles
Help your skin recover from exposure to sun and sea
An introduction to a non-surgical cosmetic procedure for younger-looking skin
A new beauty trend to fight the signs of age
Top Stories
A review of home gym gizmos
A value-for-money mascara, but does it do all it claims?
A guide to choosing the right perfume and wearing it correctly
Advertisement